Workplaces
OBA Amsterdam
This public library near Central Station is a free workspace to read or study in total silence. Laptops have been taken into account, so you will find sockets everywhere. There are no fees involved, but if you want to use the WiFi you need a membership pass (only 19,50 euros a year). On the top floor is a restaurant where you can get coffee and sandwiches.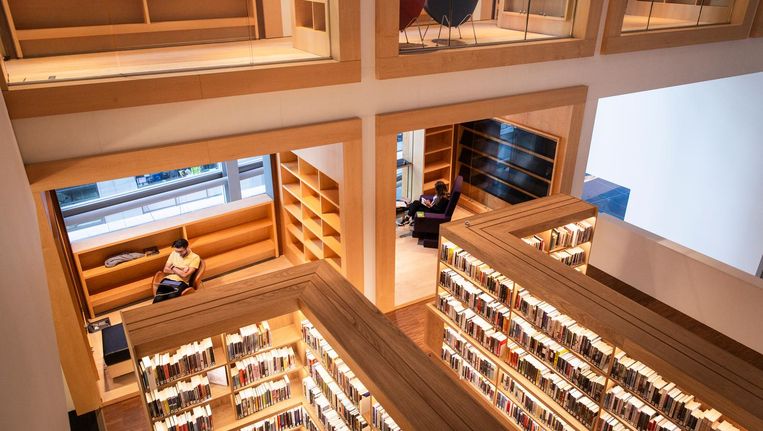 De Ysbreeker
De Ysbreeker is an atmospheric cafe-restaurant along the Weesperzijde in Amsterdam-East. It's quite spacious and they have a reading table. It's a laptop-friendly cafe so it's also a suitable place to do some flexworking. Furthermore they have good coffee and a tasty menu. What's not to like?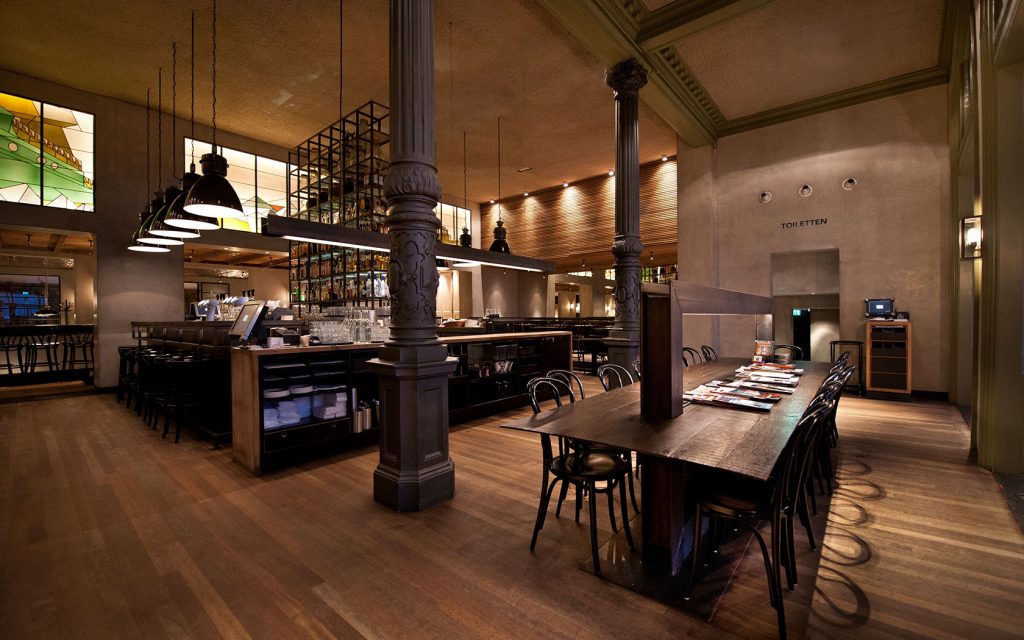 Kriterion
This cinema emerged from the resistance movement of WWII when its student founders became involved in hiding children from Nazi persecution. Today, the café is still a student association and provides a great co-working and study spot, attracting a mix of students, freelancers and cinephiles. Kriterion is also one of the cheapest places in Amsterdam to grab a coffee or beer.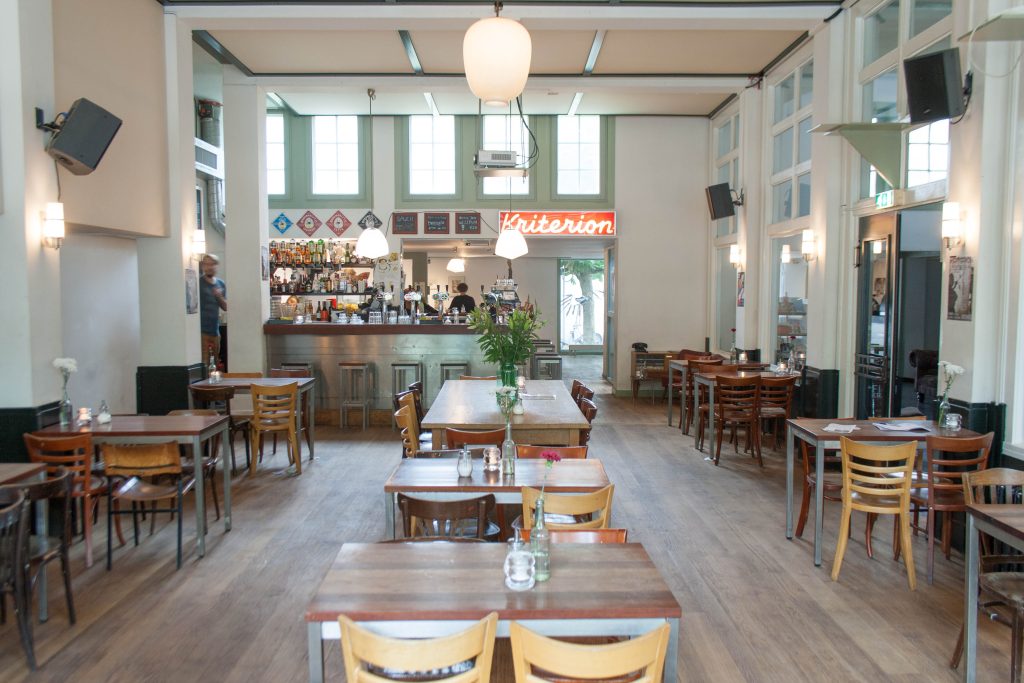 WorkSpace6
Located under the tracks of Amsterdam's Central Station between the Jordaan and the Prinseneilanden neighborhoods, Workspace6 is an inspiring place where entrepreneurs, startups, freelancers, corporates, and artists come together. No membership required.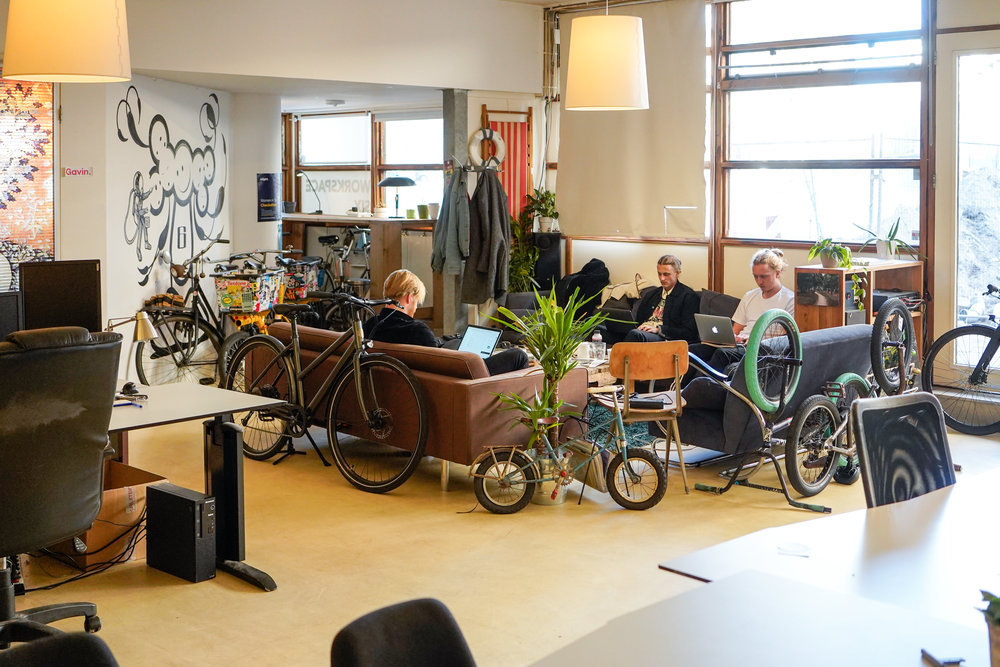 Trashure Studio
Under the roof of a former steam engine factory, Trashure Studio is situated in a prime spot in the creative hub of Amsterdam Noord. The studio offers a limited number of desks, so it's suited for anyone looking for a calm and quiet place to work, away from the hectic of everyday city life. Membership required.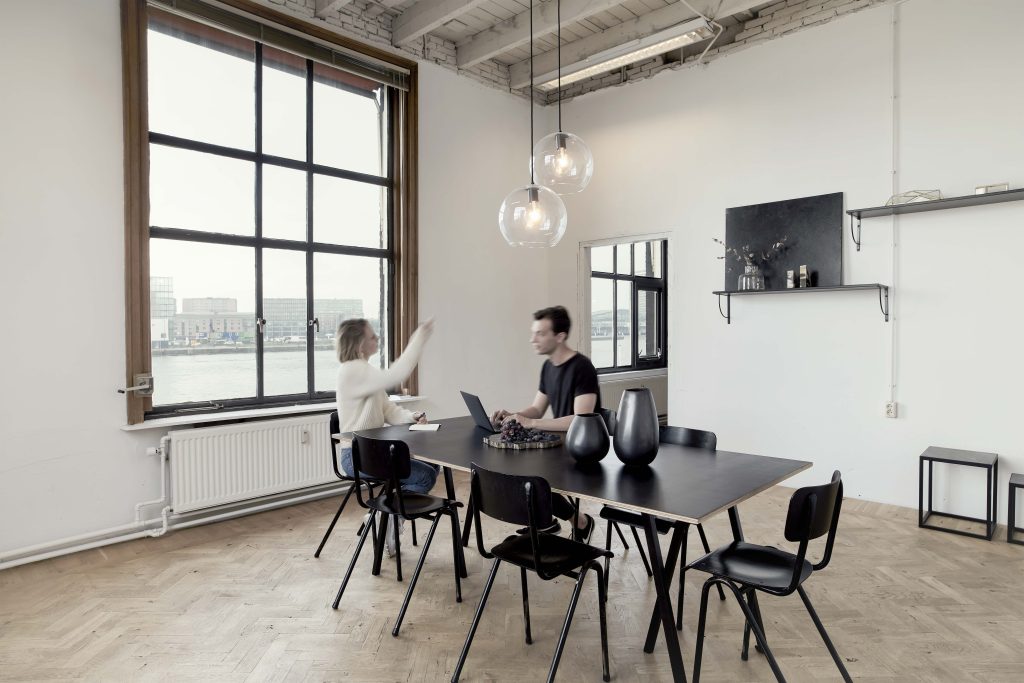 Plant22
Plant22 is a creative membership-based co-working space in Amsterdam-West. The space includes 8 workstations, a full kitchen, and one meeting room. Membership required.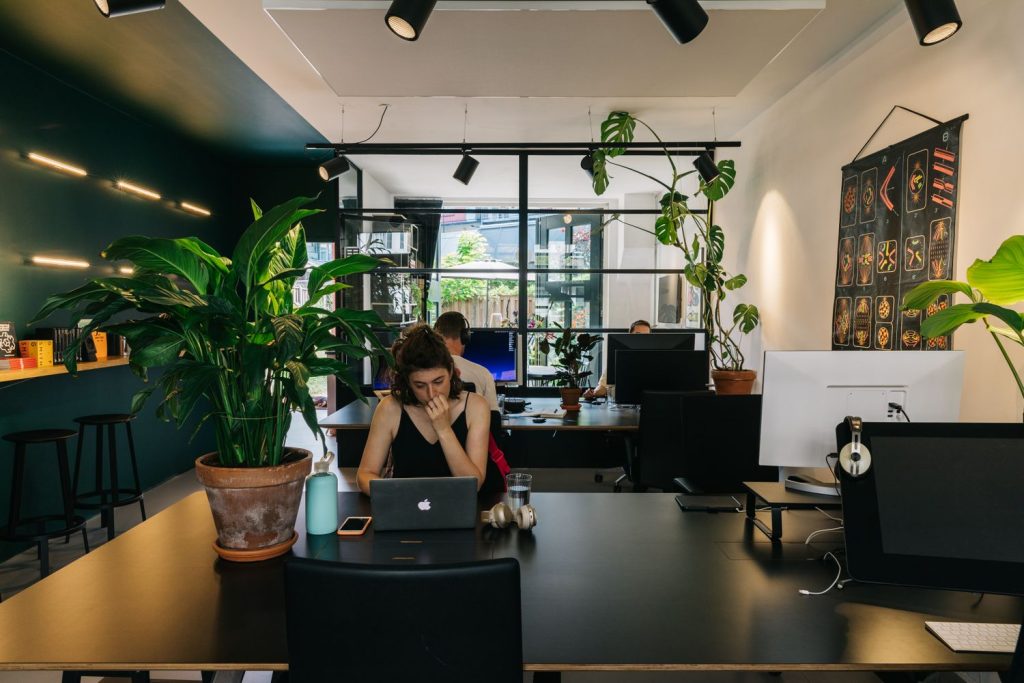 Werkplaats
Of course, our free co-working space should not be missing from this list. Werkplaats is a place where all routes meet. It's the crossroads of artists, entrepreneurs, and business city suits. A place to let ideas flow, and if you are ready to share them with the world, hire a room big enough to.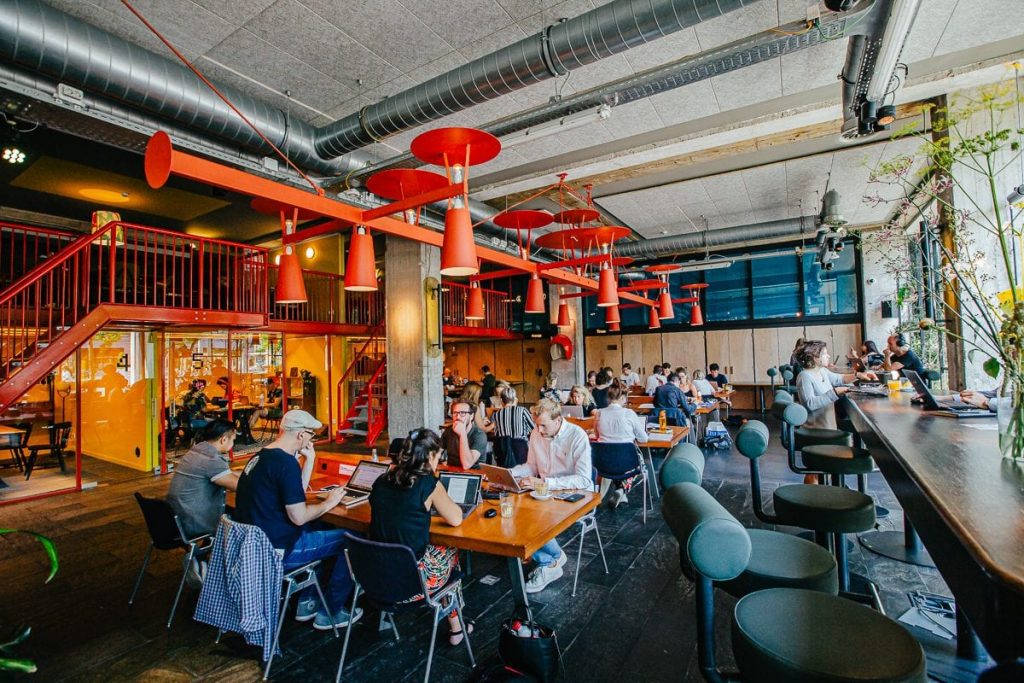 Places to stay
At Volkshotel we offer different options for sleeping. From short to extended stays, we got you covered.
Cabins
Looking for lower-priced accommodation? Our cabins are ideal for smaller budgets. You get an enclosed sleeping pod with a double bed, a small changing room, and a safe. The bathroom and toilet are shared with other cabins. Nothing more, nothing less. ⁠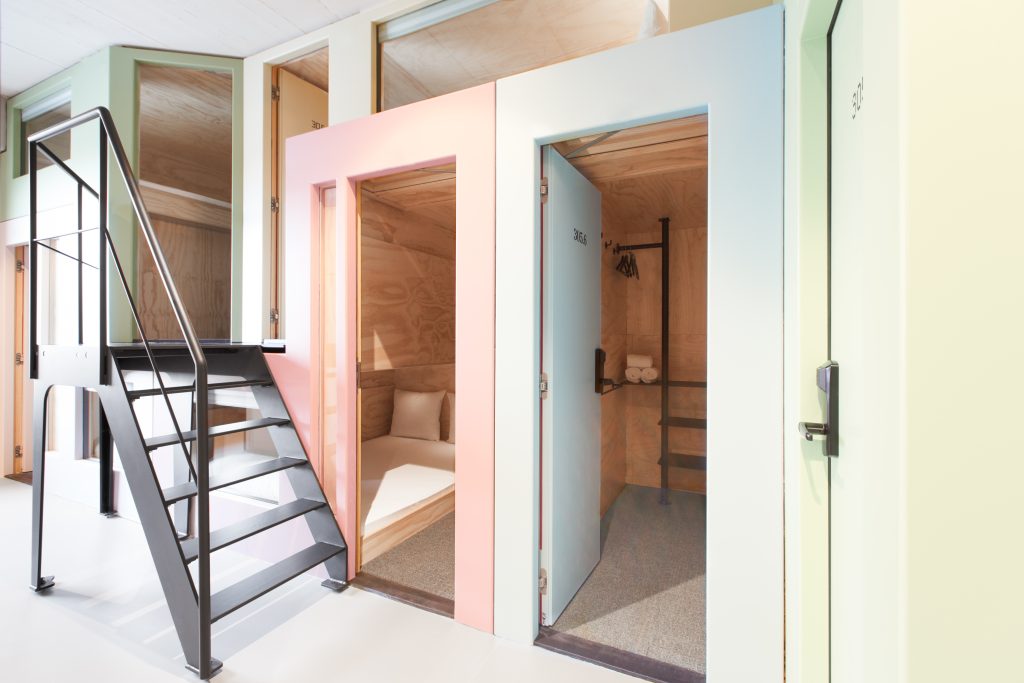 Regular/special rooms
With over 200 hotel rooms, ranging from cozy hideouts to huge hangouts, we offer something to everyone's liking. Stay in a regular room or in one of our special creations. It's up to you.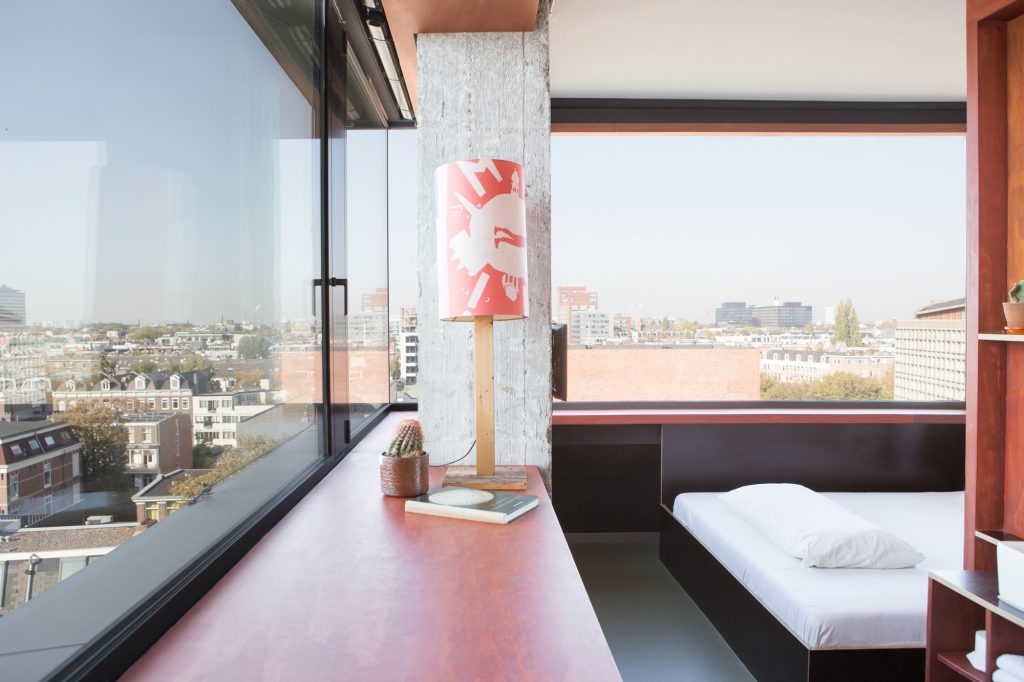 Long stay apartments
Our 24 long stay apartments have everything you need for an extended stay in Amsterdam. A fully equipped kitchen, living room with TV, double bed, a sofa bed for a third person, shared laundry room, and private balcony. Ideal for temporary housing. Check all info on our long stay options here.