The themes of the special rooms not only focus on styling but also involve design and interior architecture. From layout to the floor and from the bathroom to window, every room is unique.
Lost & Found
This room is almost entirely made of objects and materials found on the streets of Amsterdam. Designer François Duquesnoy: "In this quirky special room I emphasize the strong relationship between Volkshotel and Amsterdam. I did this not only by literally bringing the city into the room but also by inviting the guests to explore the city in a different and new way. I encourage the guests to explore the beauty of Amsterdam as it is; raw and unpolished."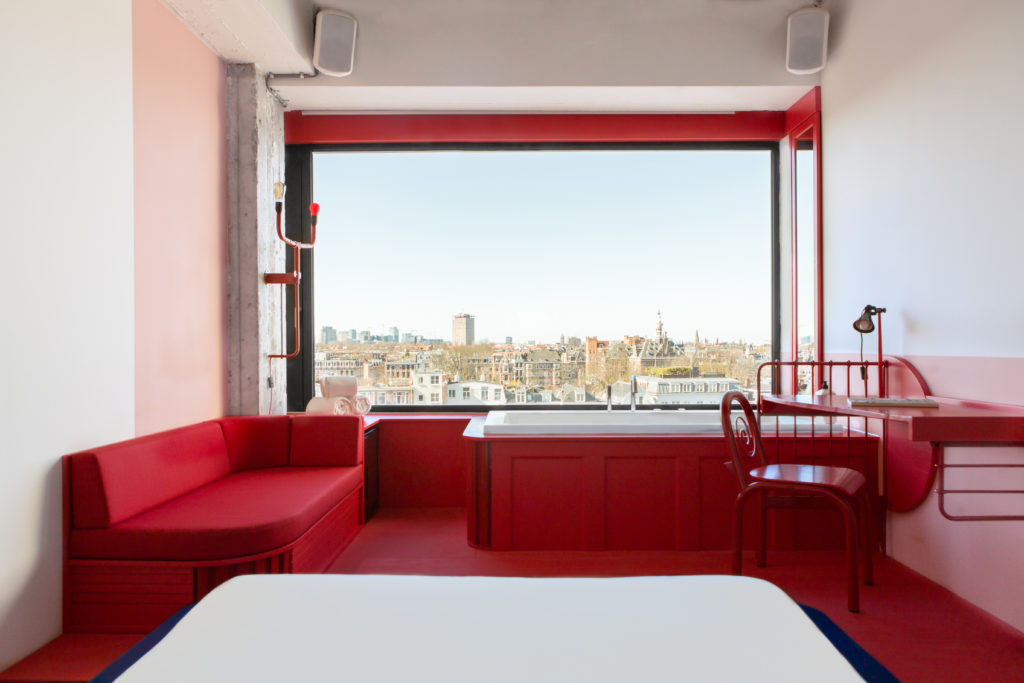 The Businessman's Trip
A room for anyone that wants to take their trip to the next level, designed by Arno Hoogland. Arno: "In its design, I've tried to capture the essence of Amsterdam in a state of transition. It's called the business(wo)man's trip because business people are often short on time; if you're a busy person curious to experience another dimension when in town, this place is for you. It's an unusual hotel room for anyone looking for something special."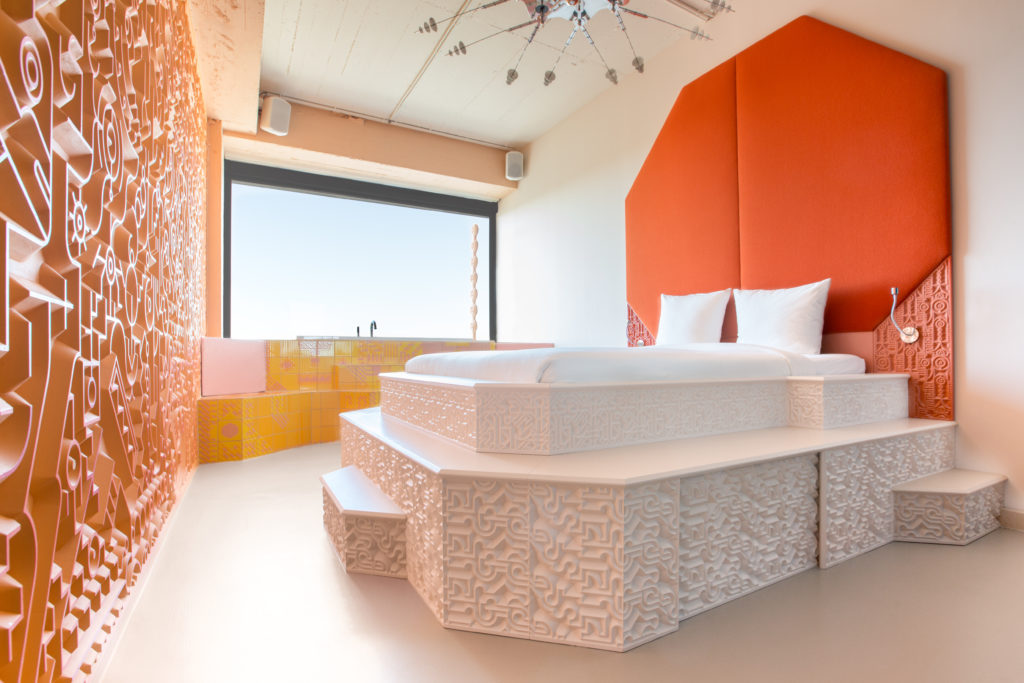 Cinema Boudoir
In Cinema Boudoir you can watch a movie from the king-size bed or whilst having a bubble bath. Interior designer Maja Markovic: "I thought about what I would prefer as a hotel guest, especially after a long journey: comfort, relaxation, luxury, and distraction. For me, a hotel room is a place where you can get lost in your own world."Cinema Boudoir is inspired by The Electric Cinema in London. Markovic: "This is where I first experienced what it is like to watch a movie as a 'rich queen'." Besides that, Cinema Boudoir is a romantic place: once upon a time, there was a lovely lady whose heart got stolen. Call it a 'burning desire'. Her adventures were written and abandoned somewhere in the room.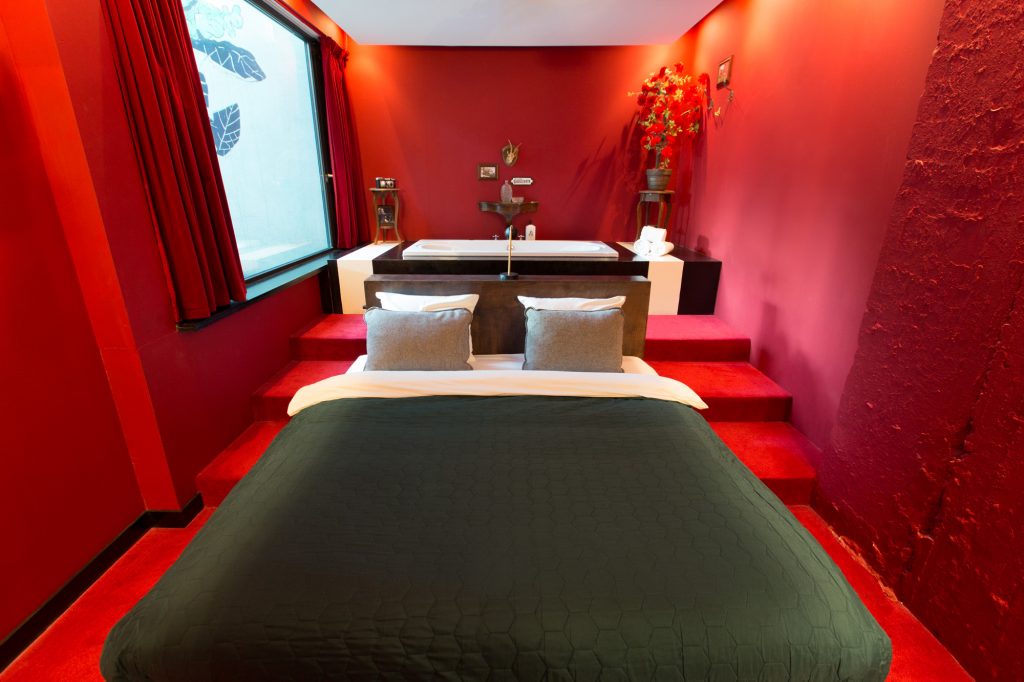 White Bike Room
Sleep in a Dutch 'bakfiets' (bike cart) and bathe with views over the city. A room full of white bicycles, accompanied with two of your own to explore the city. White Bike Room, designed by Architect Thijs van Oostveen, is inspired by the Dutch love for bikes and the city of Amsterdam – the place where there are more bicycles than people. Thijs van Oostveen explored every way to use the irregular shape of the bicycle in a stylistic way. The theme is carried through to the details: the walls hold 3D white bikes, the minibar has wheels, you can read under bicycle lamps and sleep in a real tricycle cart, which was actually cycled to the hotel by the architect himself.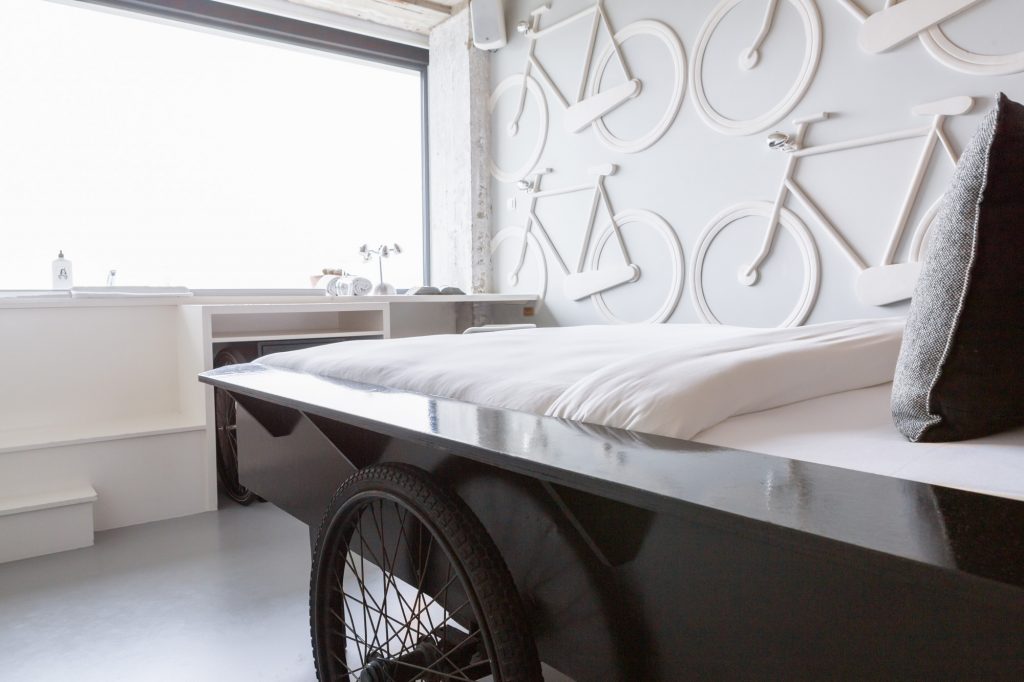 Soixante Neuf
This room is about mystery, sensuality, and seduction. Interior designer Rosa Lisa Winkel: "If you can see yourself in a mirror there is nothing left to the imagination. So in my room, there are no mirrors on the ceiling. The high gloss epoxy floor plays with the lighting of the steel hanging bed, creating a surface in which you can maybe see shades of yourself, or maybe not. The room is modern, minimalistic and cool; sleek lines play the leading role. The window seal holds a stage with a bath and views over the city. Soixante Neuf is the perfect place for couples in love, but… they have to have a little courage. For a prudent couple that intends to hire a bridal suite… this isn't the room for them."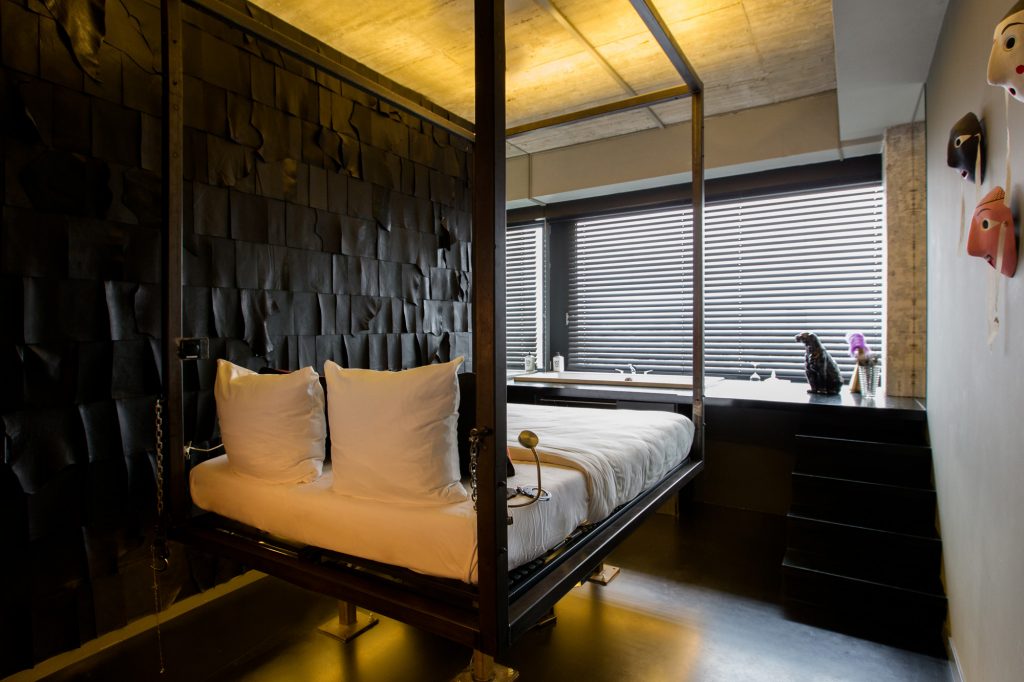 All our special rooms come with a bath, free minibar, and beamer. You can book them here.