First stop: CKX Studio
Just 2 minutes from Dam Square you will find CKX Studio, a concept store where everything is blue. It's located in the 'Blaauwlakenblok' (blue cloth block). Traditionally this is the area where dyers we're located who worked with woad and indigo. CKX Studio offers a carefully selected collection of sustainable clothing, artwork & home accessories. Timeless and iconic pieces that cut through gender and time. You"ll find lots of denim, indigo handcraft, and blueprint artwork (cyanotype) here, alongside other blue treasures. 
Sint Annenstraat 6, Amsterdam
www.ckxstudio.com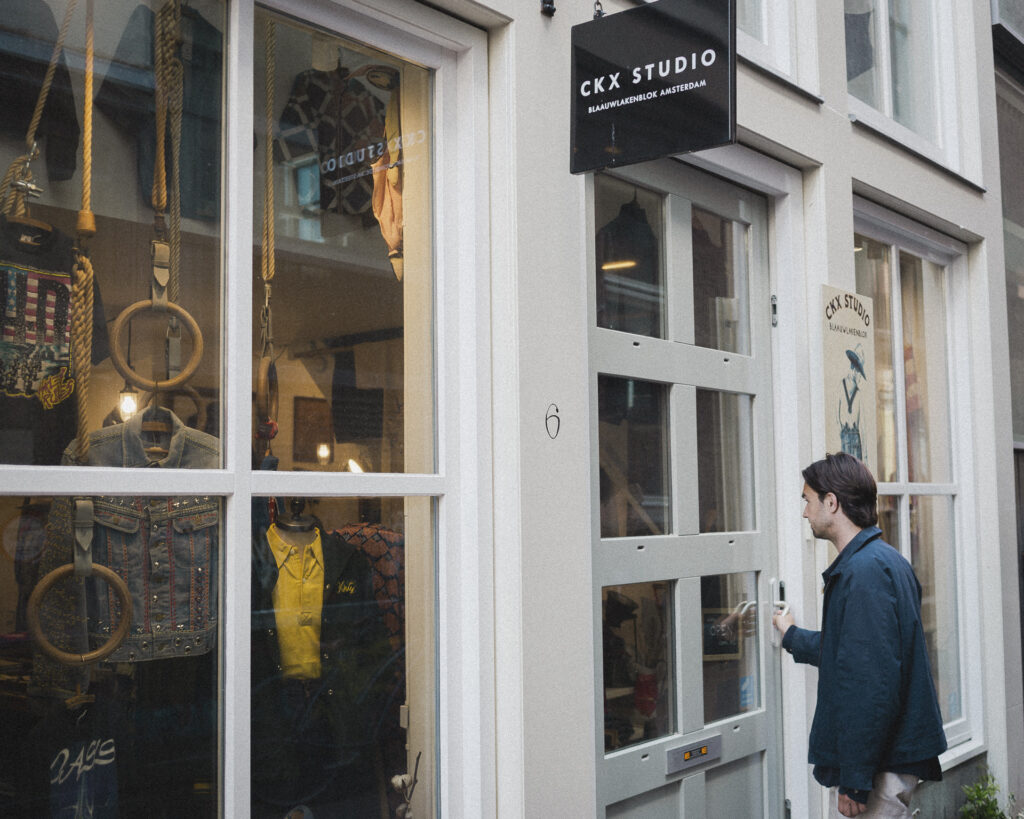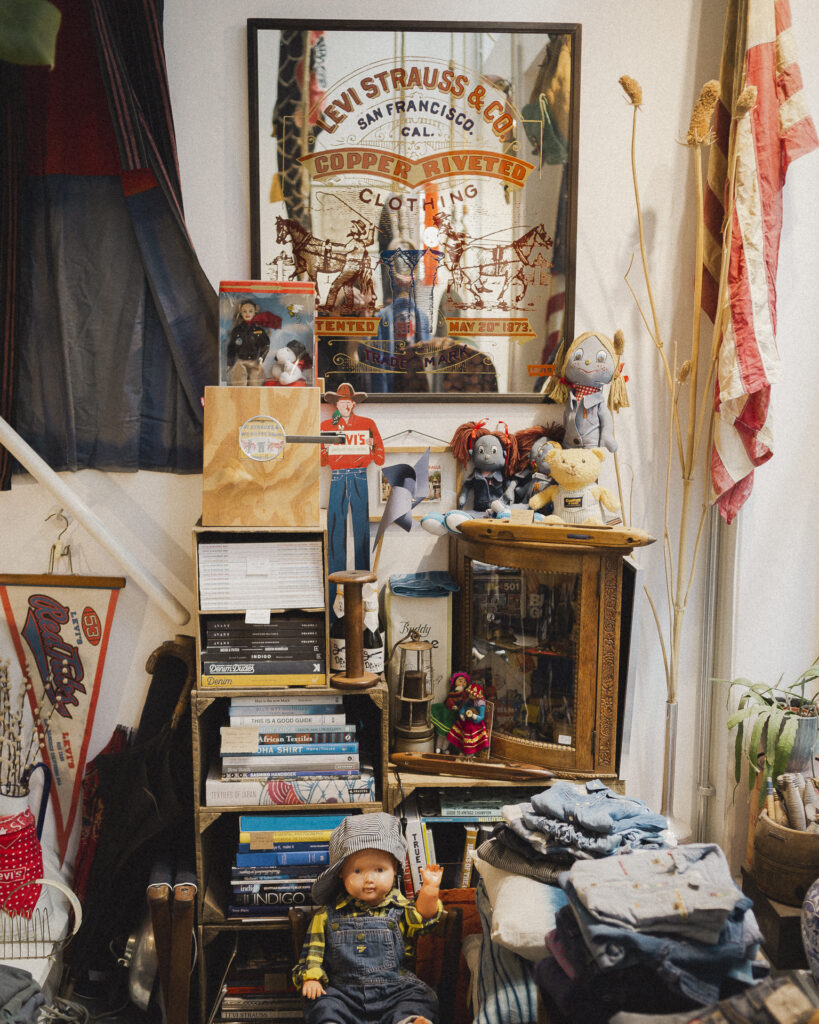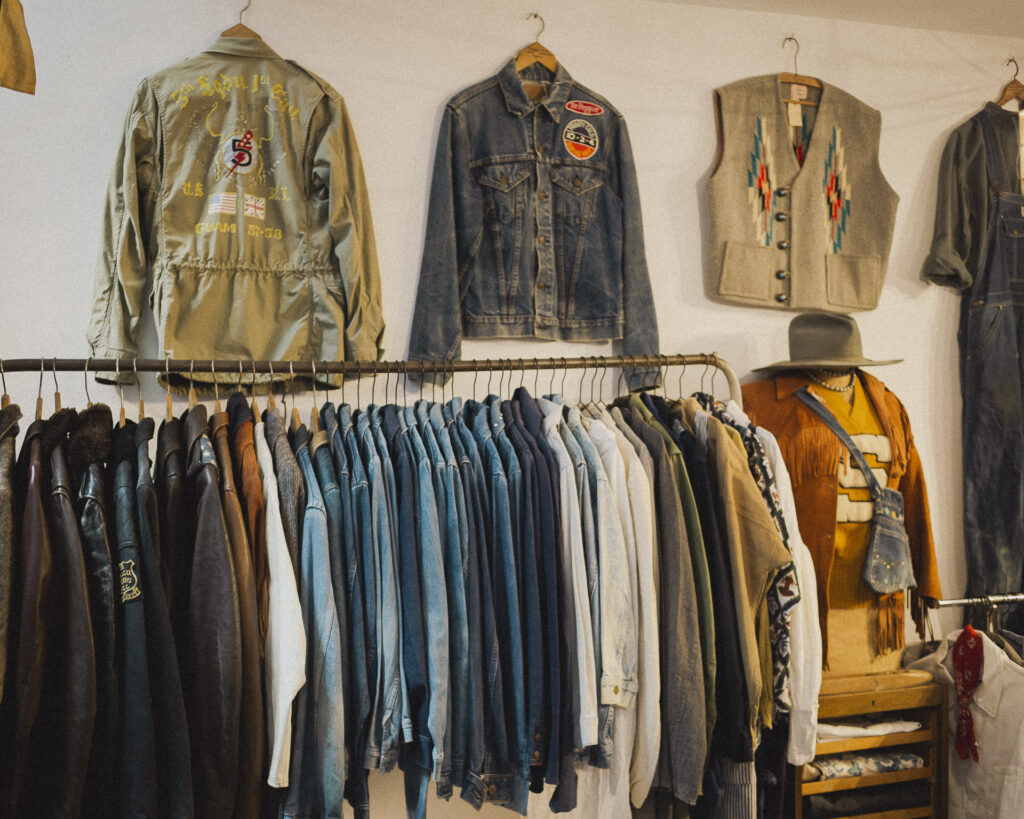 Second stop: Waterlooplein
The Waterlooplein is the oldest flea market in the Netherlands. Founded one hundred and thirty-three years ago and open six days a week. With around three hundred stalls, it's one of the most atmospheric places in the heart of Amsterdam. You can browse, look and buy as much as you like. From vintage cameras to second-hand books, jewelry, and the latest fashion. All for very little money. Every stall is different and unique. And who knows – as has often happened – you may find that undiscovered Rembrandt painting, signed copy of Hemingway, or a guitar by John Lennon. Tip: bring cash with you and come in early to find the best items.
Waterlooplein (two stops with the metro from Volkshotel) 
www.waterlooplein.amsterdam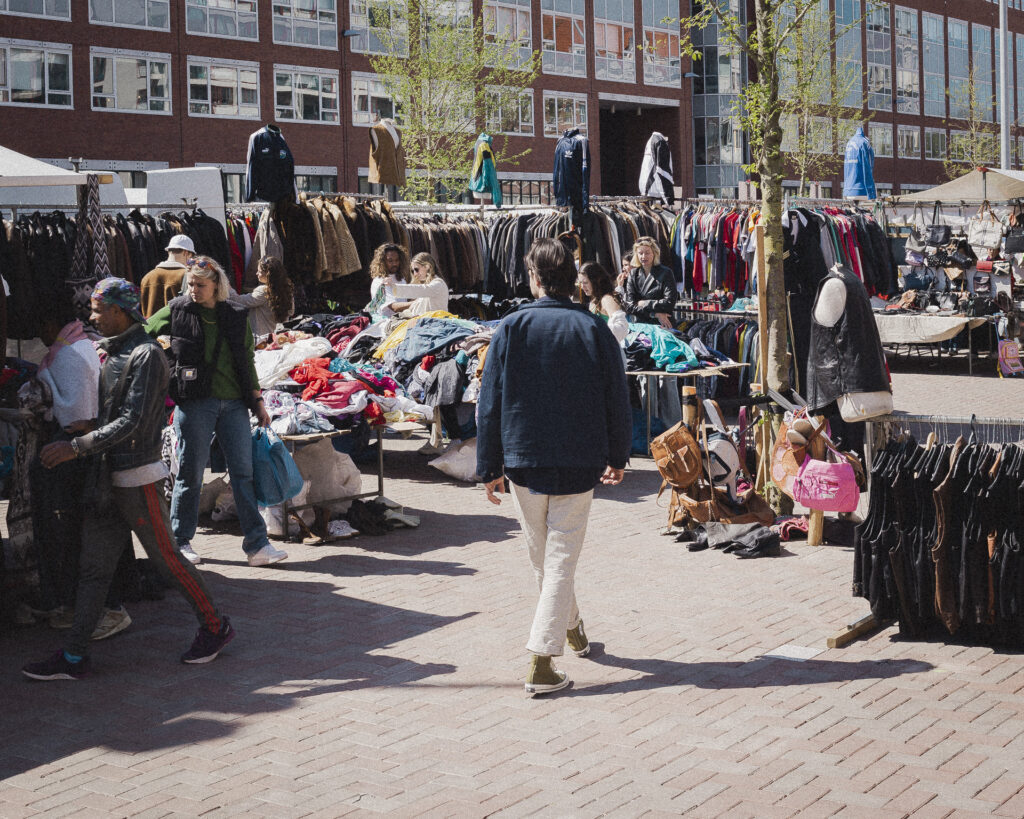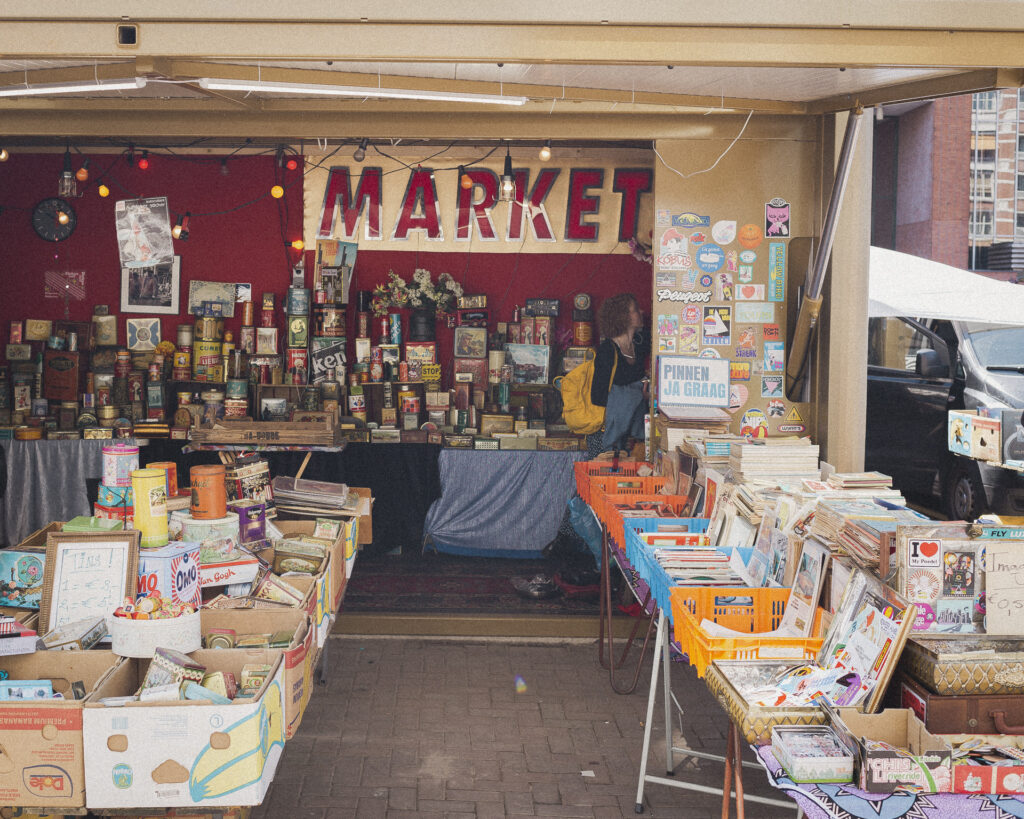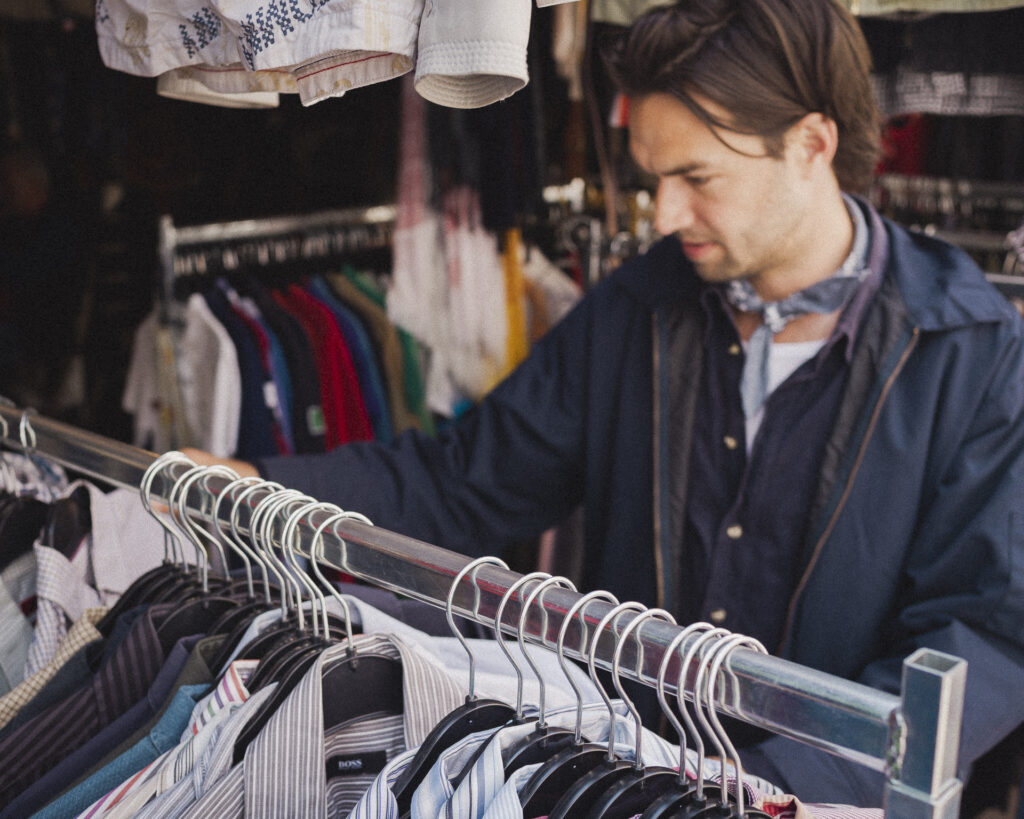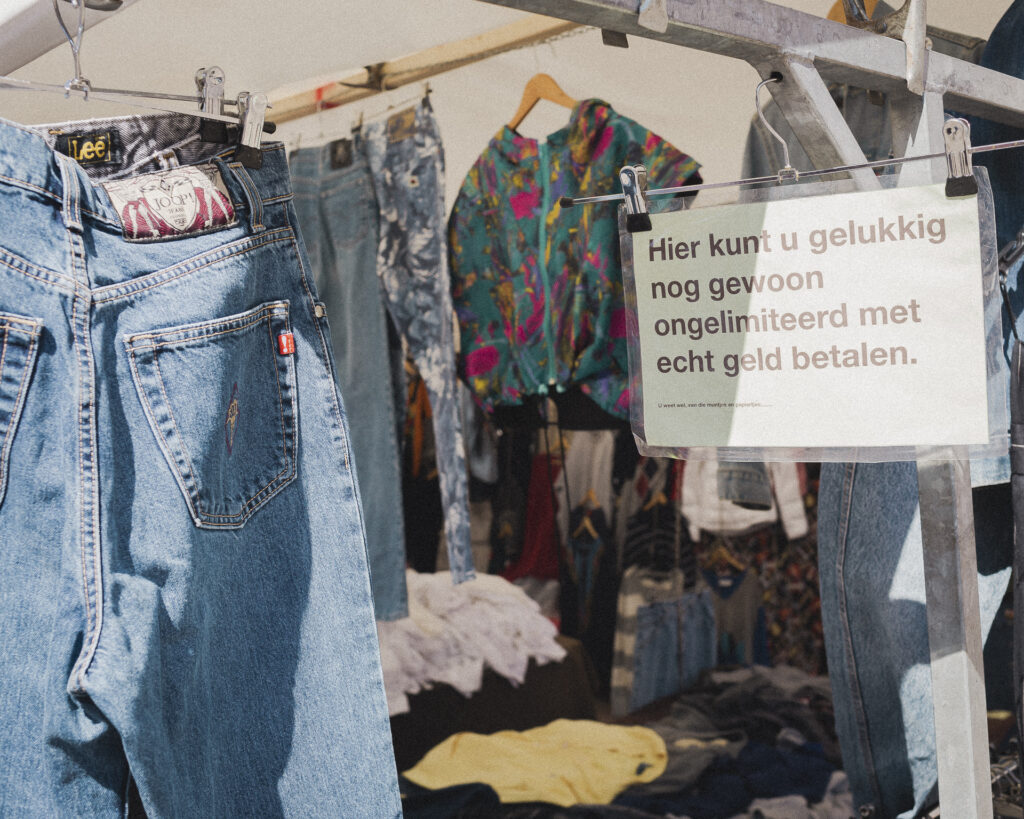 Third stop: BIS! 25A, 25B, 25D
Between the Waterloopplein and the Nieuwmarkt under the arcade of the Sint Antoniesbreestraat, you will find BIS! Three special vintage shops, each with its own atmosphere and vintage collections. At BIS! 25A you'll find Army-Navy Classics. In addition to vintage army clothing, they also offer the well-known Russian stripe shirts, Beeren shirts, and classic basketball shoes. BIS! 25B is your go-to for vintage lady's clothing from the fifties, sixties, and seventies. The collection is completed with matching accessories such as bags and shoes. BIS! 25D has plenty on its shelves for both men and women. For example a range of polo shirts, soft cashmere sweaters, and cool leather jackets.
Sint Antoniesbreestraat 25-A, Amsterdam
www.bis-vintage.nl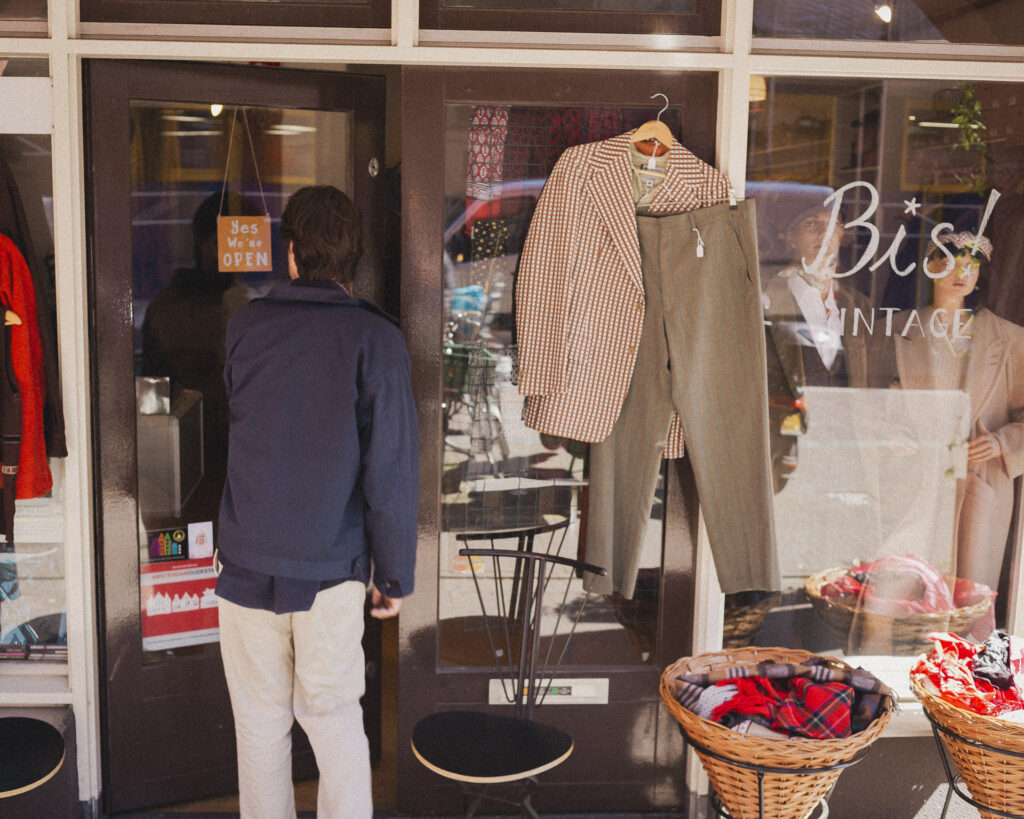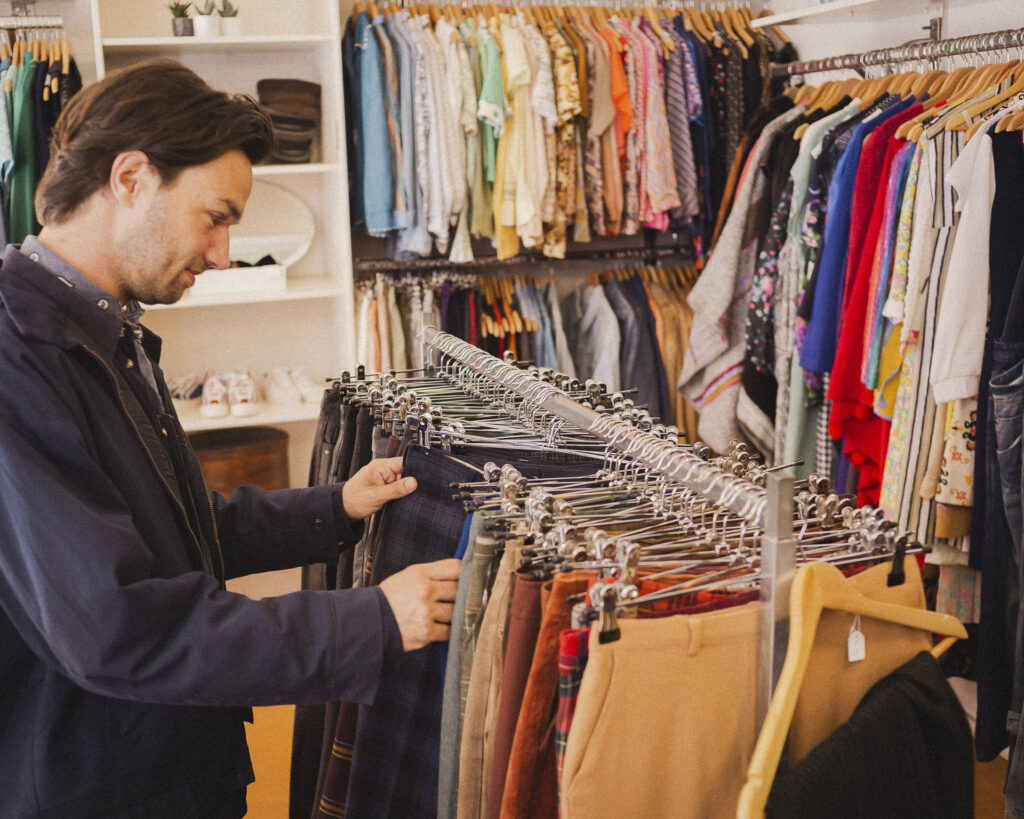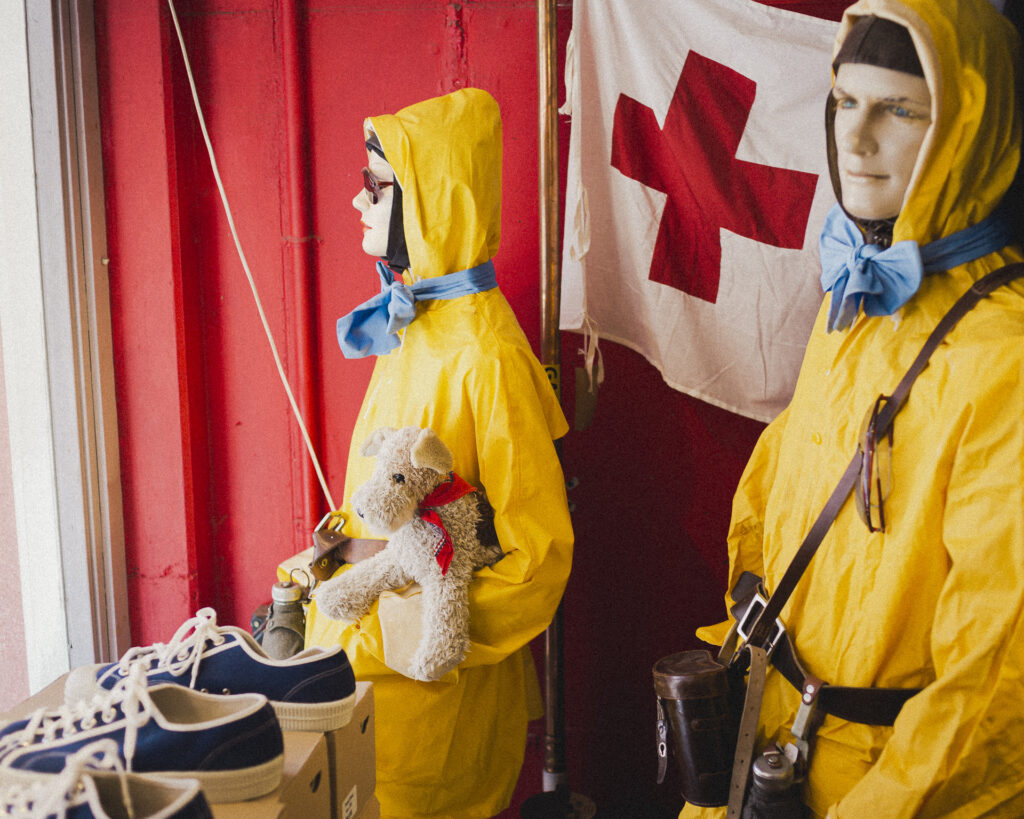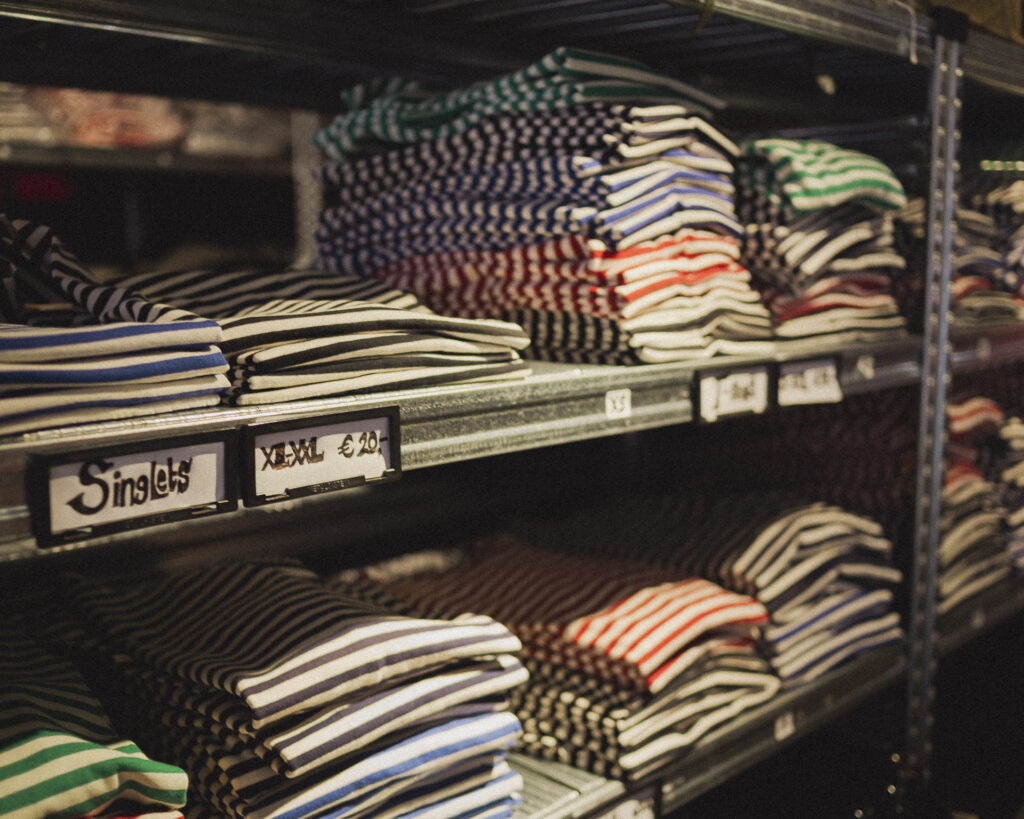 Fourth stop: Mood Indigo 
Mood Indigo accumulates the best that denim has to offer.  From American craftmanship jeans and Japanese self-edge denim to original Moleskine workwear with an authentic touch of wear, tear and repair. Every item is sourced with care and attention to detail, in order to offer you the richest and most exclusive vintage selection. The collection is full of amazing mint-condition and deadstock pieces. 
Nieuwe Hoogstraat 8
www.moodindigo.nl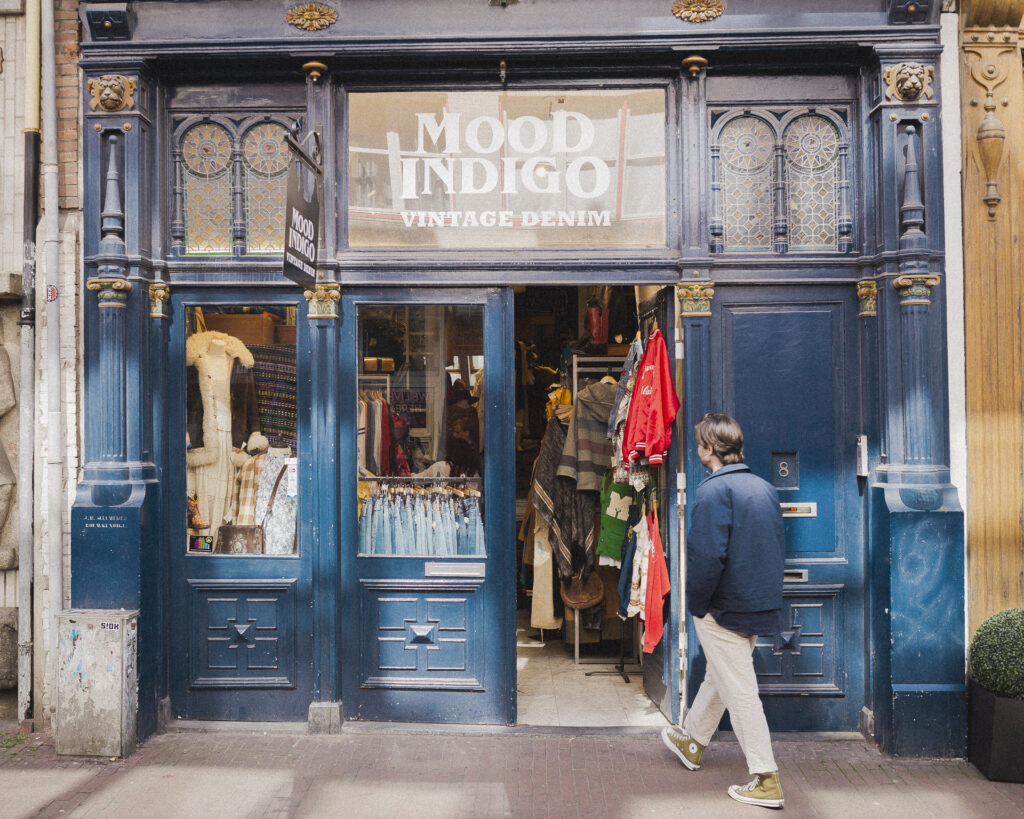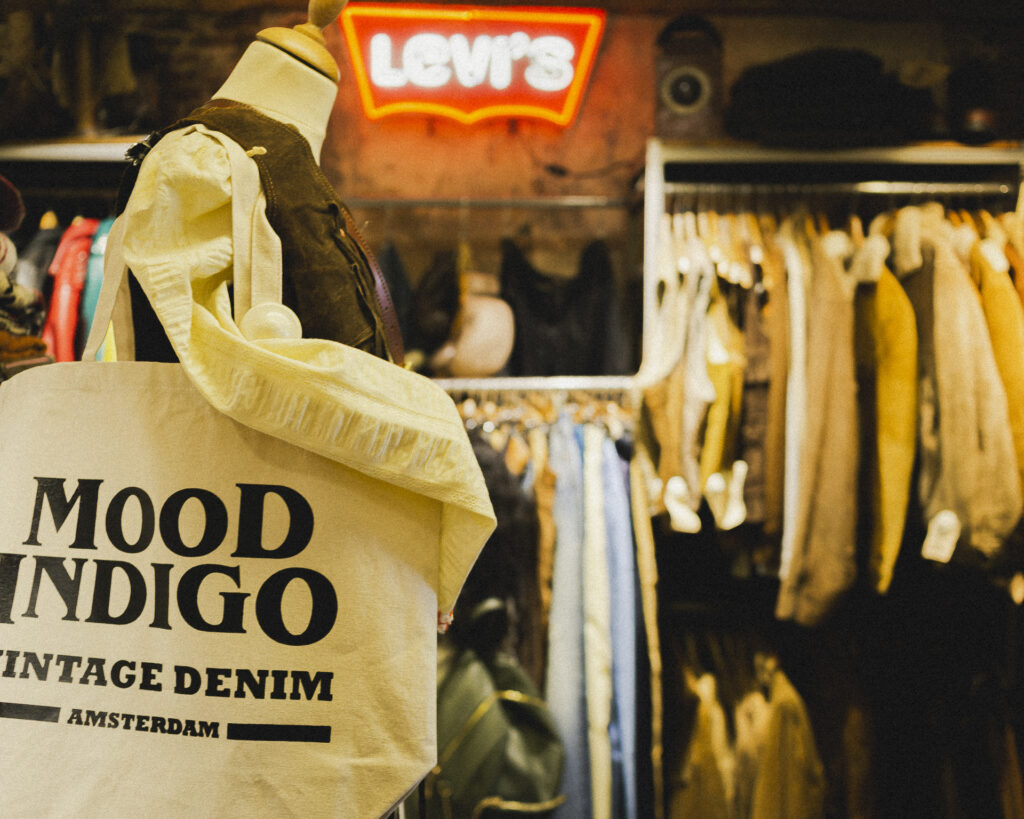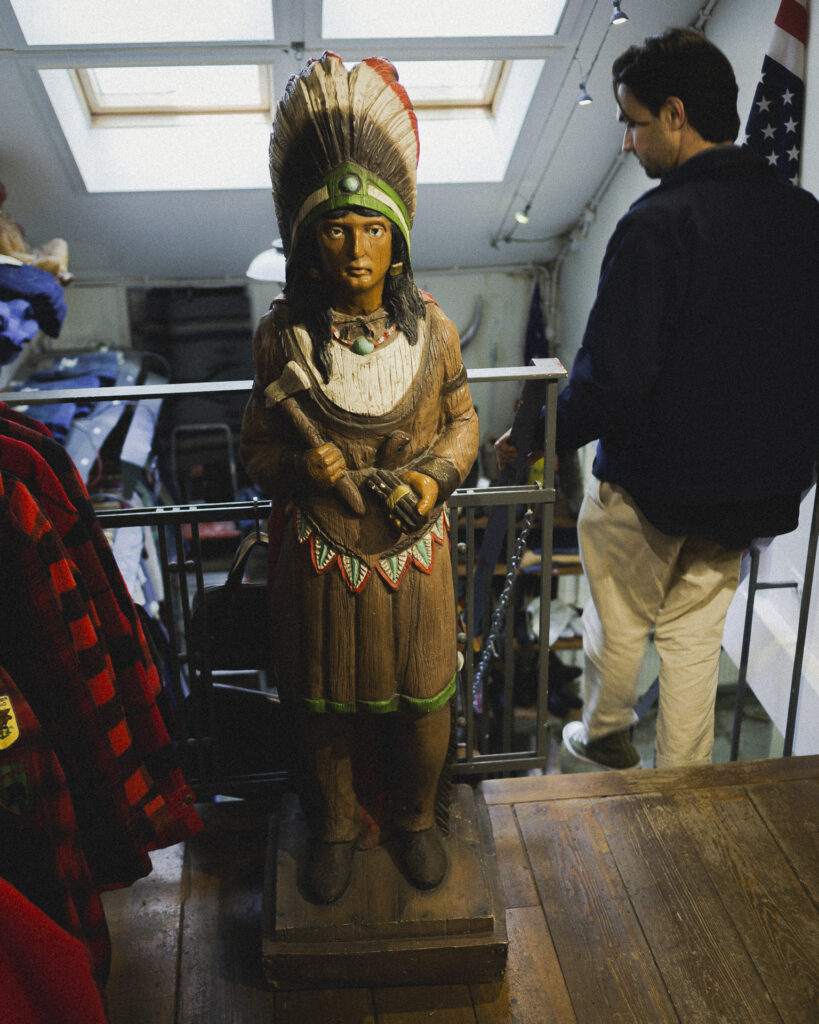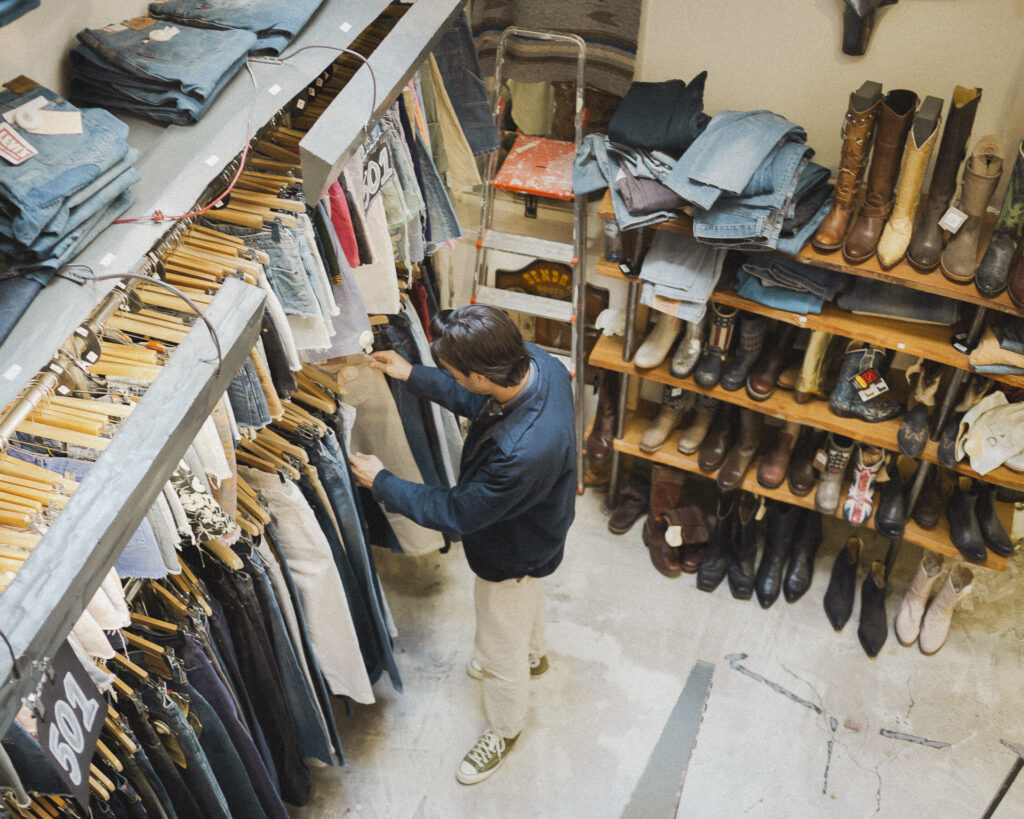 Looking for more vintage clothing shops in Amsterdam? Check our Google Maps list.

Looking for a place to sleep? Check out our Lost & Found room by Francois Duquenois. This room is furnished with all kinds of objects from the streets of Amsterdam, giving them a new life.