Tomas Ermin works as a designer and Anouk Hoogendoorn as a writer/artist. For this collaboration, they have incorporated and expanded elements of their own practice. The flag was created after conversations between Tomas and Anouk about the concept of a flag, its history as an identifier and nationalistic symbol, as well as its meaning and use in the queer community.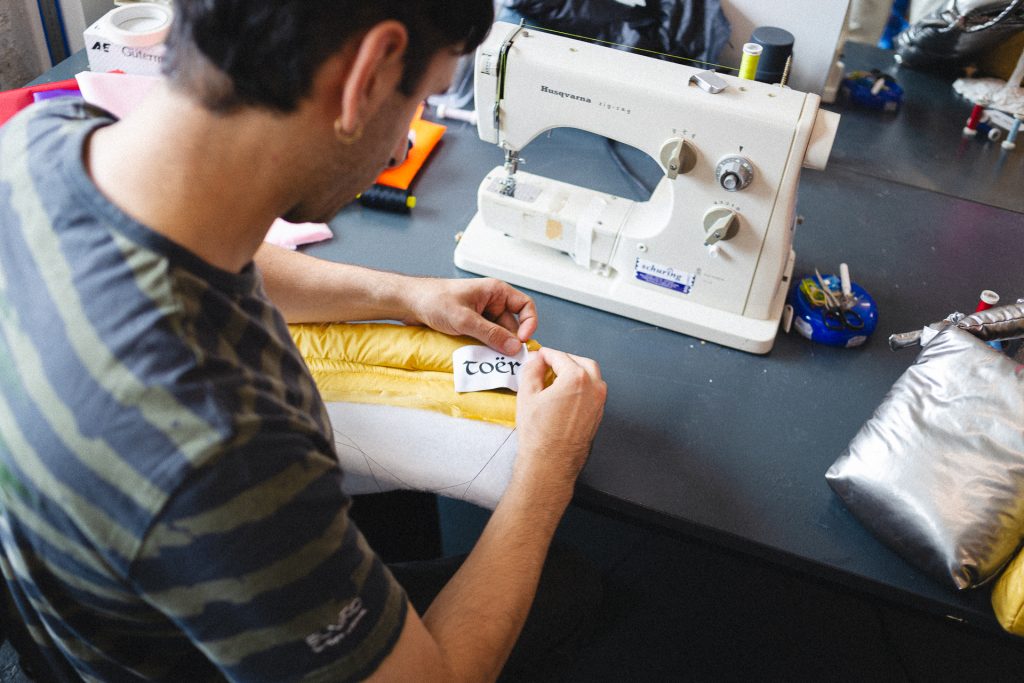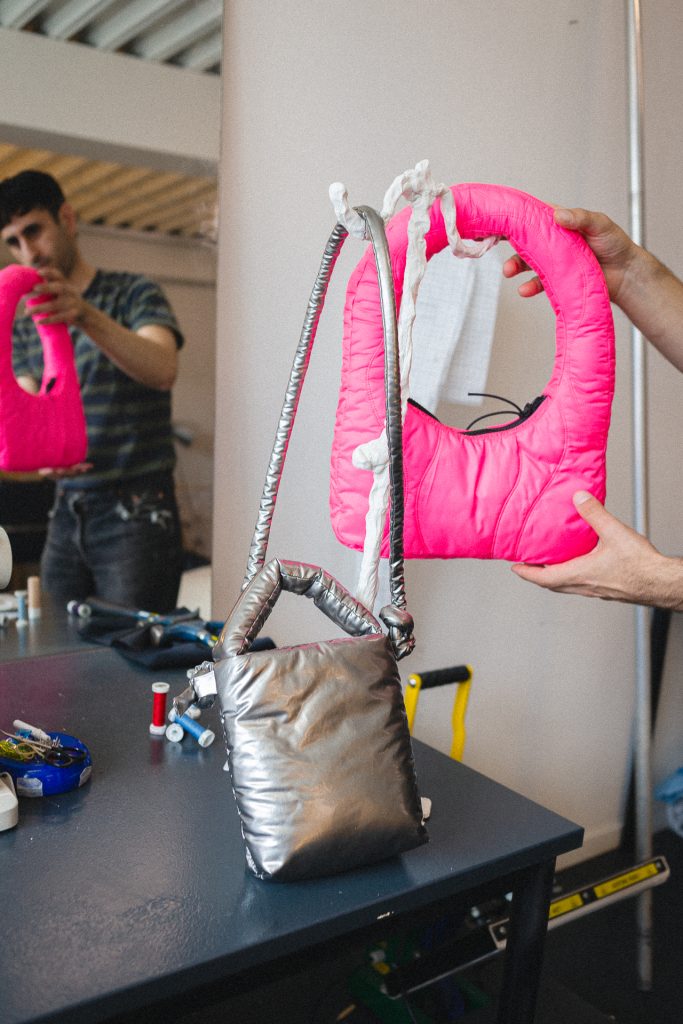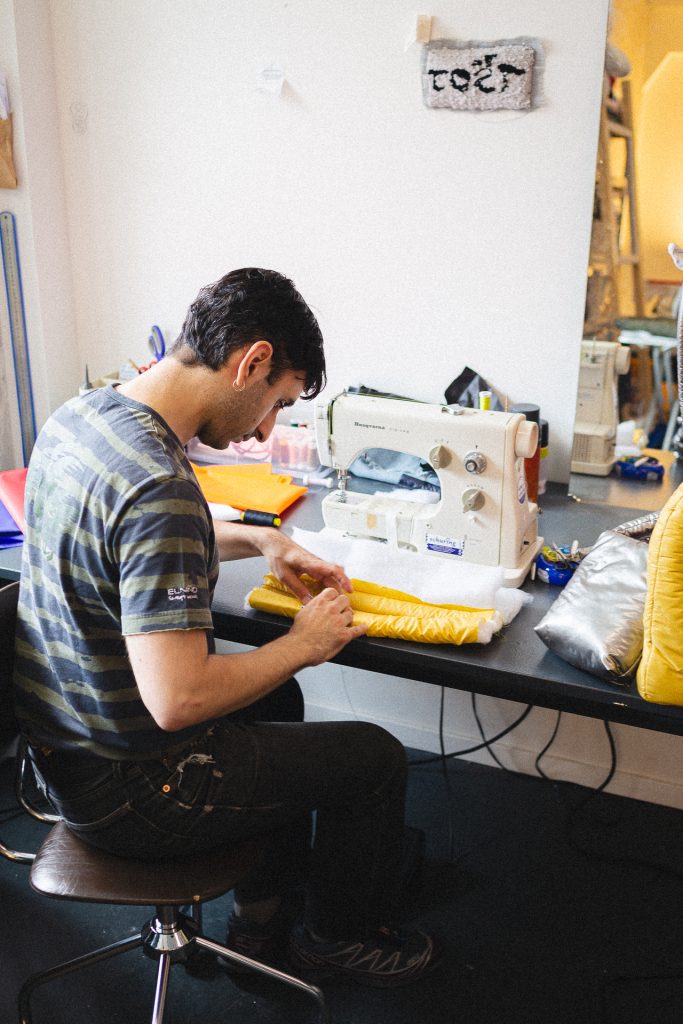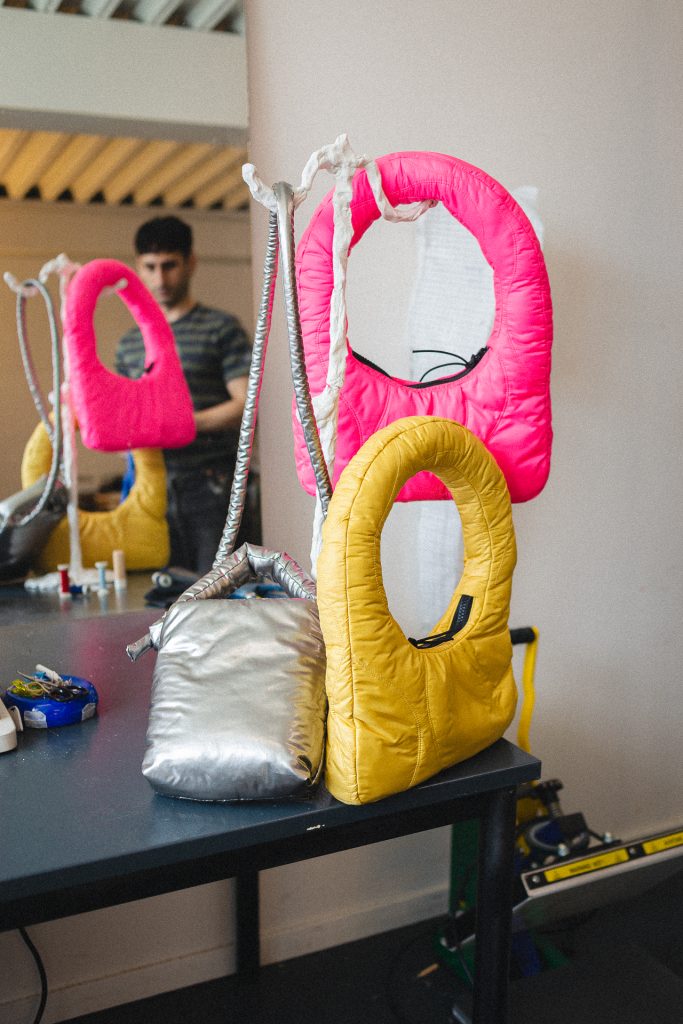 The wind that catches the flag became an important starting point for the design. The movement and playfulness of the work hopes to question the stiffness and position of a flag as a symbol of claim. Think of claiming a country, the moon, or an identity.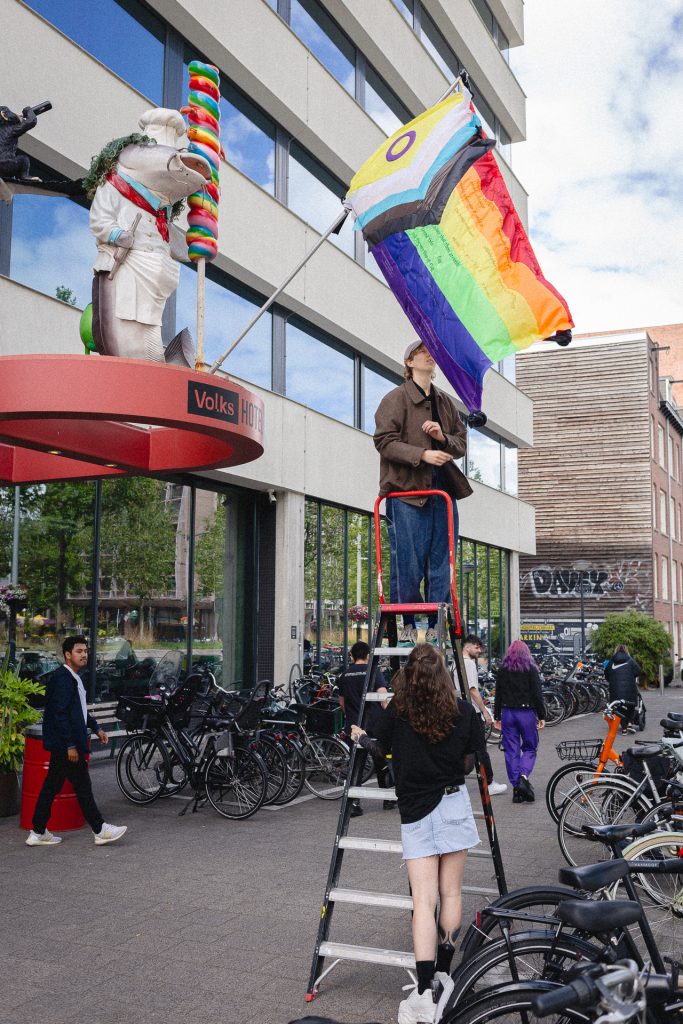 The work on the chalkboard in the lobby (Splicing Rope Ends Together) is a follow-up work that came about during the making of the flag. Within both works, the text embroidered/written by Anouk is a connecting element that seeks form and stability, while undermining its own certainty. The flirty dark blue puffy buttons from Tomas' practice play with the idea of grabbing and sticking. In addition, it is also an embodiment of fantasy and wonder.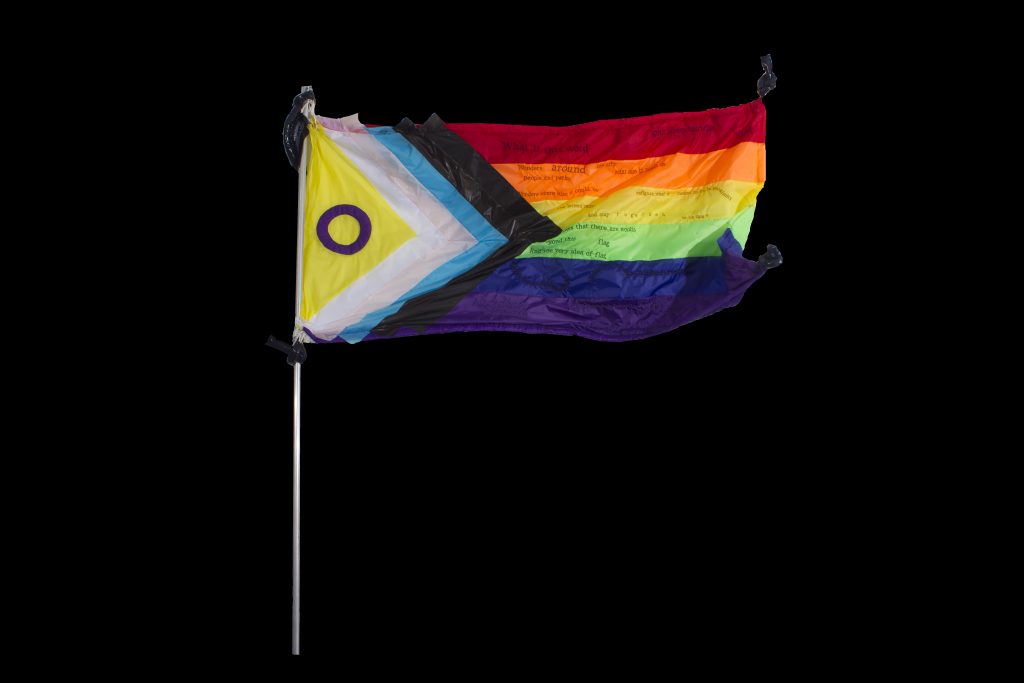 Poem on the flag:
What if this word gets blown into the wind
Wonders around the city;
its people and paths
Wonders where else it could be,
what else it could be
The letters move apart
and stay together;
Refigure what it means
to be in proximity,
to be close
This word knows that there are worlds
beyond this flag
and the very idea of flag
Knows that there are liberations
outside the very logic it wants to undo
This word doesn't want to stand anywhere
or stand for anything
The more it is forced to stand,
be still, stay put
The more it fights,
it resists, it breaks free
What if this word gets blown into the wind
Falls off this flag;
and resists being caught
It understands that liberations cannot happen on a single facade
Knows that it needs movement;
That it needs needs the wind
Queer life doesn't happen in recognisable,
easy consumable brackets
This word anticipates the wind;
That which can be otherwise
"and [sits] here wondering which me will survive all these liberations" – Audre Lorde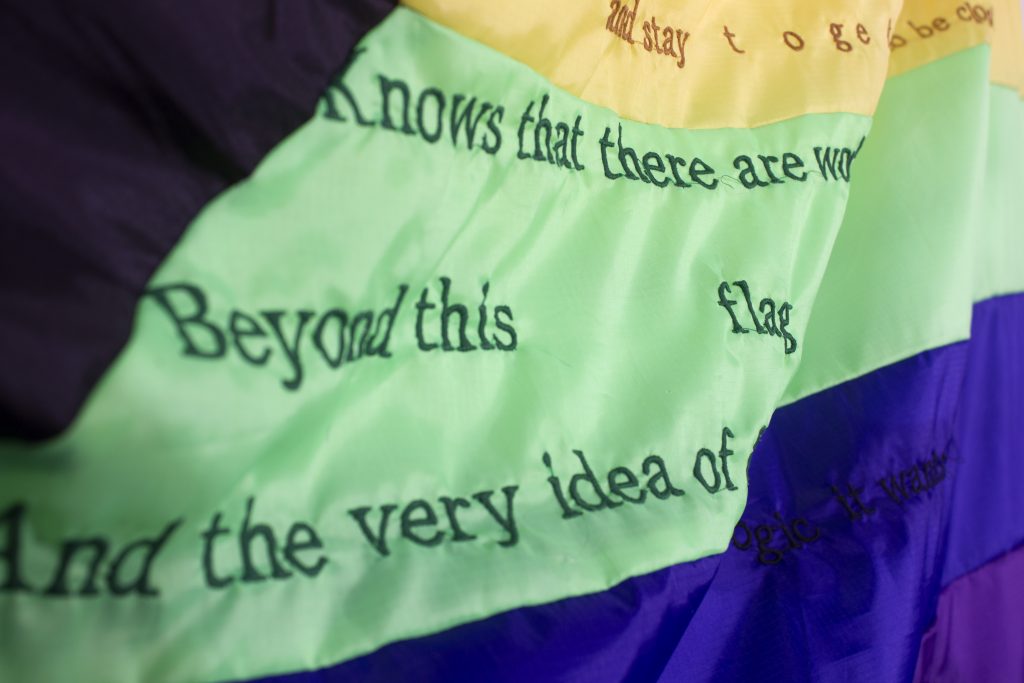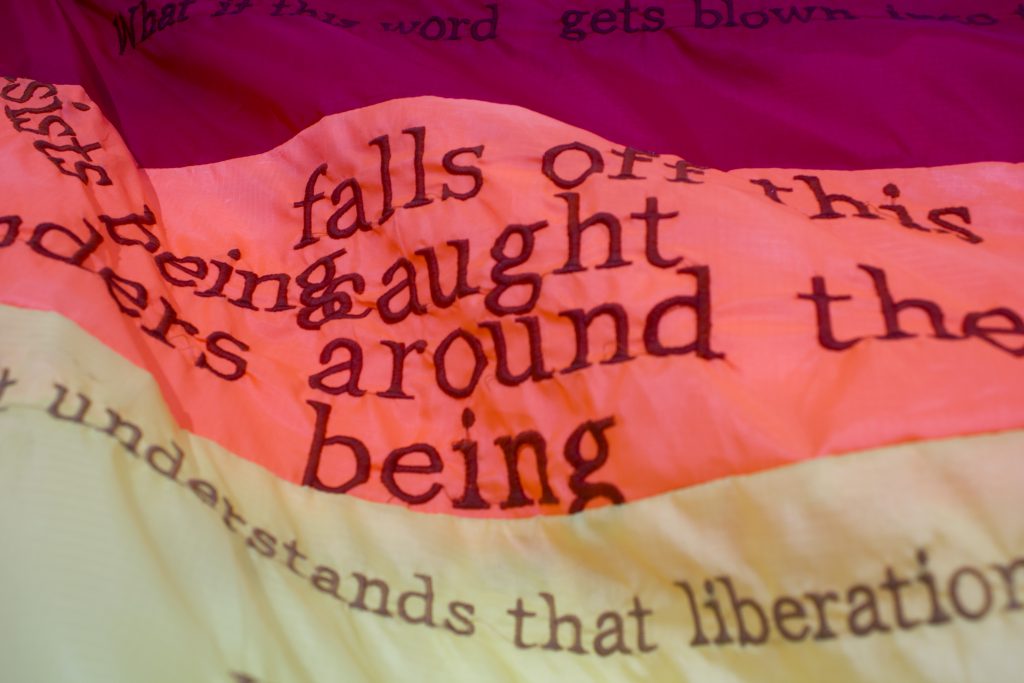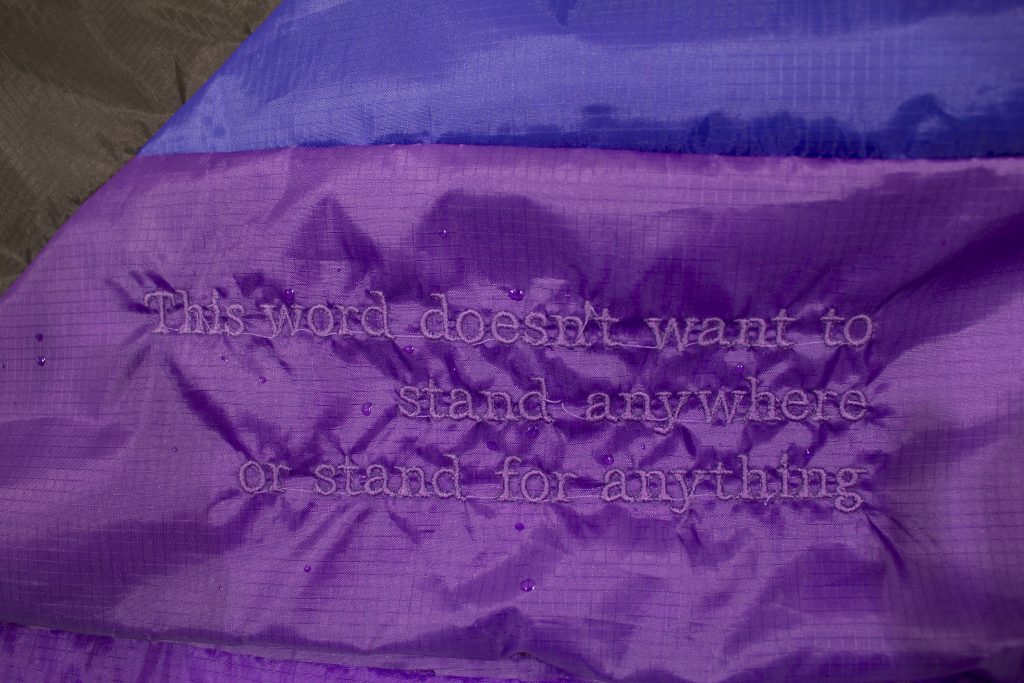 Tomas Ermin
[IG] @toer___
Anouk Hoogendoorn
[IG] @kolemulen
[W] www.anoukhoogendoorn.com