How do you actually start brewing a new beer?
Usually, I come up with a number of different recipes in my head including potential characters or names for the beer. Then I choose the recipe that fits best and process it into a 'flavor wheel'. The goal here is to be able to describe the beer in a few words to someone else in a way it already sounds and tastes good before you even hear the full description.
How did you go about brewing this Volkspils? 
We first had a very nice meeting, where we mainly looked at our goals, what we wanted to achieve with the beer. We tasted different beers in which direction we could go. Then Volkshotel came up with Levi Jacobs for the design of the bottle. He likes to work with fresh, clean characters and lines, which in turn fits well with our brewing style.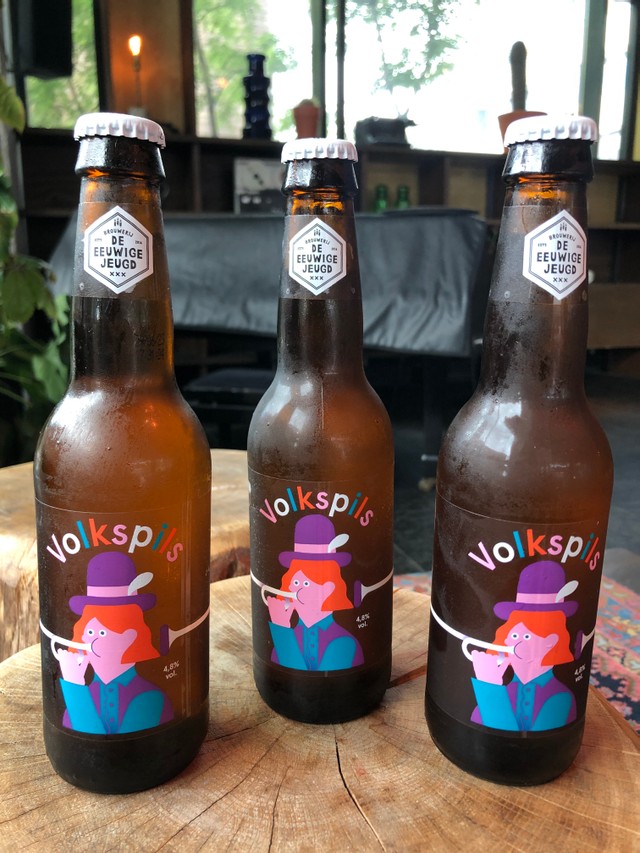 Were you quickly satisfied or did you have to tweak a lot?
There has been quite some tweaking. Eventually, we mixed elements from a classic lager with refreshing hops that are also used in many IPAs. This will taste great on many occasions. When you're at work in Werkplaats, in the sun at the rooftop terrace of Canvas, or in the basement Doka.
Are there certain things that inspired you?
Because many cultures come together in Volkshotel, we decided to get raw materials from 3 continents. Australian yeast, Belgian malt, and American, European, and Australian hops.
Why should people taste this beer?
This blonde lager is just a really nice collaboration in where everything comes together beautifully. In a phase that felt a little bit hopeless, to a phase where we can toast to life again!
The new Volkspils is now available at our bars.
Bottle artwork by Levi Jacobs. Header artwork by Fabian Hijlkema.
www.deeeuwigejeugd.nl