The club's opening in 1987 came at a well-timed moment. In the late 80s house music really started to bloom in Western Europe, coming here in a process which started in the wake of disco, emerging from queer, black and Latino communities in Chicago, Detroit and New York in the early 80s and arriving in Europe via Ibiza. 
In 1988, there was also the beginning of the so-called "Second Summer of Love" with a massive wave of free parties and illegal raves. Just as the previous summer of love in the late 60s was fuelled by LSD, so its successor was similarly fuelled by the widespread use of another new drug: MDMA, a substance which really stimulated euphoric, empathetic and loved-up experiences. Around this time, several clubs popped up that began to cater to the increasing number of people eager for an intense cocktail combining the drug; this new, often very soulful dance music; and also this incredibly vibrant and exuberant aesthetic, shaped by those black and queer communities who had first introduced the sounds in the early 80s. The club that catered this intense cocktail the most appealing way in Amsterdam was the RoXY, enjoying fame for its theatrical and glamorous appearance. Besides the club was known for its extravagant shows, which were presented in large, often multimedia sets that changed every six weeks.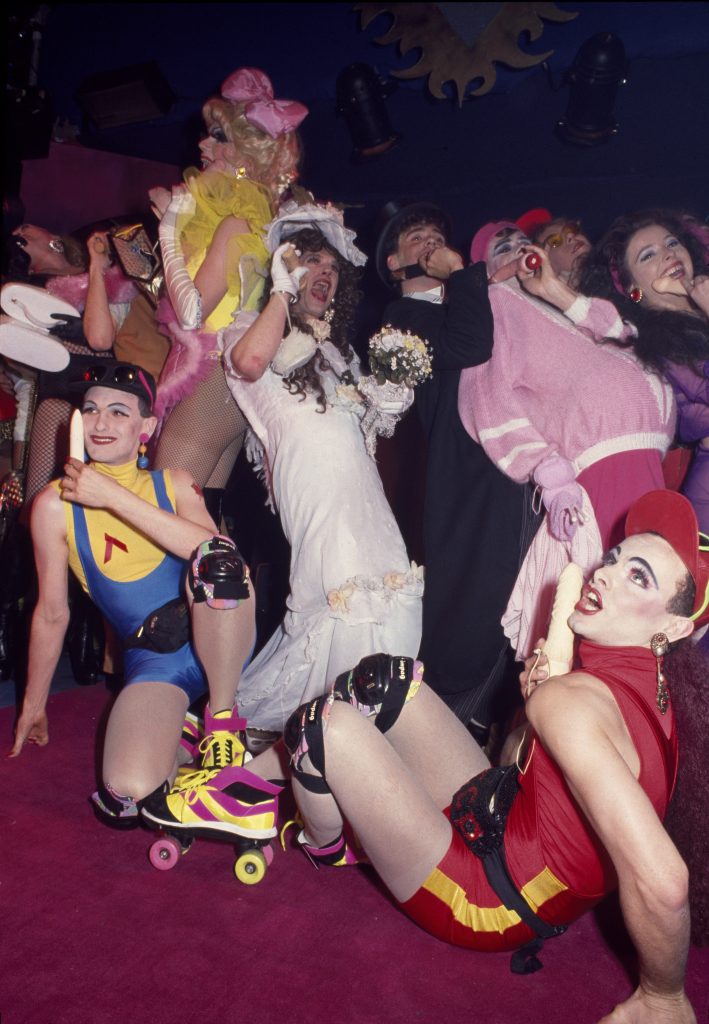 The legendary RoXY closed on 21 June 1999 in the most spectacular way possible. When the club's founder Peter Giele died of a brain hemorrhage at the age of 55, the day had already been a bit of a fiasco, with Giele's corpse falling out of the coffin as it was being lowered into the grave. It got worse at the wake, when some indoor fireworks started a fire that burned down the entire place. It's a sad end to such a special place, but you know what they say: it's better to burn out than to fade away. 
For a lot of people the RoXY embodied the absolute highlight of night culture, never to be matched again. A few people share their experiences and memories of this buzzing time. Miriam Rossewij for instance was one of the professional dancers in the RoXY in the 1990s. Then she was a journalism student, now she is a programme maker.
"As a dancer I had to descend from the top of the RoXY on a glitter ball, into the dancing crowd. Everyone was so extravagant and extremely dressed. Later that evening, when I went for a walk, I saw a man with a ball in his mouth. He was pulled by another man with a chain. We were hired not only by the RoXY but also by clubs like Sinners and the Supperclub. We also danced a lot at famous parties in Amsterdam such as Chemistry, Speed ​​Freaks and Soap. But at none of these places and events could match RoXY. Although I could often be found in the RoXY, I never really let myself go. I didn't quite understand that there were people who sometimes went out four nights a week. How on earth do they keep up with that? I wondered. And what do they do during the day? In addition, I saw many people succumb to the nightlife and the drugs that went with it. I didn't want that. I wanted to finish my studies. When the RoXY burned down, it didn't hit me right away. The house scene must be moving to another club, I thought. But that time never really came back."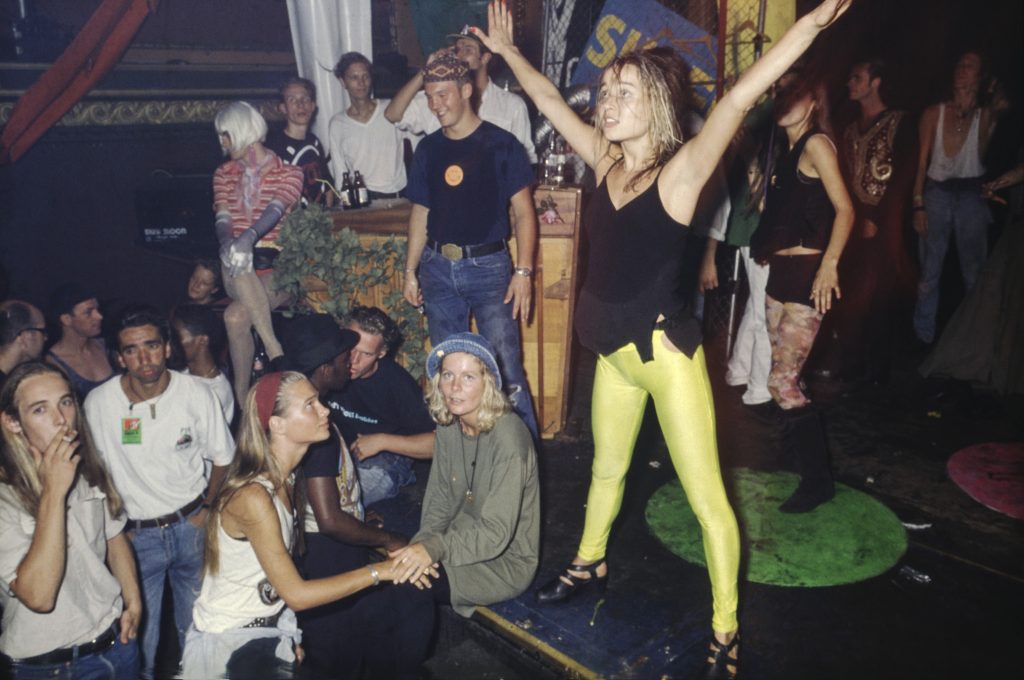 Doc Alexander was a regular visitor to Gay Night at the RoXY. Then she was a professional dancer, now she is a DJ.
"We were just leaving RoXY when ambulances and fire trucks with sirens barrived. 'The RoXY is on fire!' someone screamed. We cried outside the door. It was so intense. What happens to all those people who are inside? And what will happen to this place? With open mouths and trembling legs we waited. Until one by one people came out. Some with burns, some not. Everyone fell into each other's arms. This is the end of an era, I knew immediately. Wednesday night – Gay Night – was my favorite night at the RoXY. It felt like one big playground. I remember one night when we all had to dress in white. The stage was covered with garbage bags. While one man fistfucked the other man, he swung his arms a few times. The shirts of people in the front row were completely covered. I've never laughed as hard again in my life. People ran away as they took off their clothes. Simply hilarious and typically RoXY. The nightlife is no longer as it used to be. Clubs are no longer special, people are no longer really extravagant. I miss it. I still go out regularly, but the feeling from then will never return."
Levi Graham performed at the RoXY in the 90s. Now he is a fitness manager and personal trainer.
"When I teach in the gym, I often talk about my time in the RoXY. 'Stand up straight' I say. 'Exude confidence. Do just like the crowd used to in the RoXY. Be proud. Think: here I am! And watch your coordinates. Remember: if you stumble, you will knock over a drink!' It was a crazy time. Just crazy. In London, where I come from, you had either gay or straight clubs. There was something for everyone, but you had to look for it. In Amsterdam it was mixed and totally insane. The great thing was: everyone was respected. That extremity was what attracted me so much. In England I had an ordinary job – repairing watches – and at the weekend I was busy with my hobby. I loved dancing and performing. When I got the chance to turn my hobby into my job in Amsterdam, I didn't have to think twice. I was one of the party people, the ones who get the party going. It was nice to see how other people were lit by us. And all that without drugs! I was so full of energy because of the music and the vibe that I spent the evenings on apple juice and chocolate milk. I didn't need more. And then suddenly it was over. Like Studio 54 in New York, the RoXY became legendary. You know, that craziness wouldn't fit today. We are now a lot more conservative, less tolerant. But man, am I glad I experienced it!"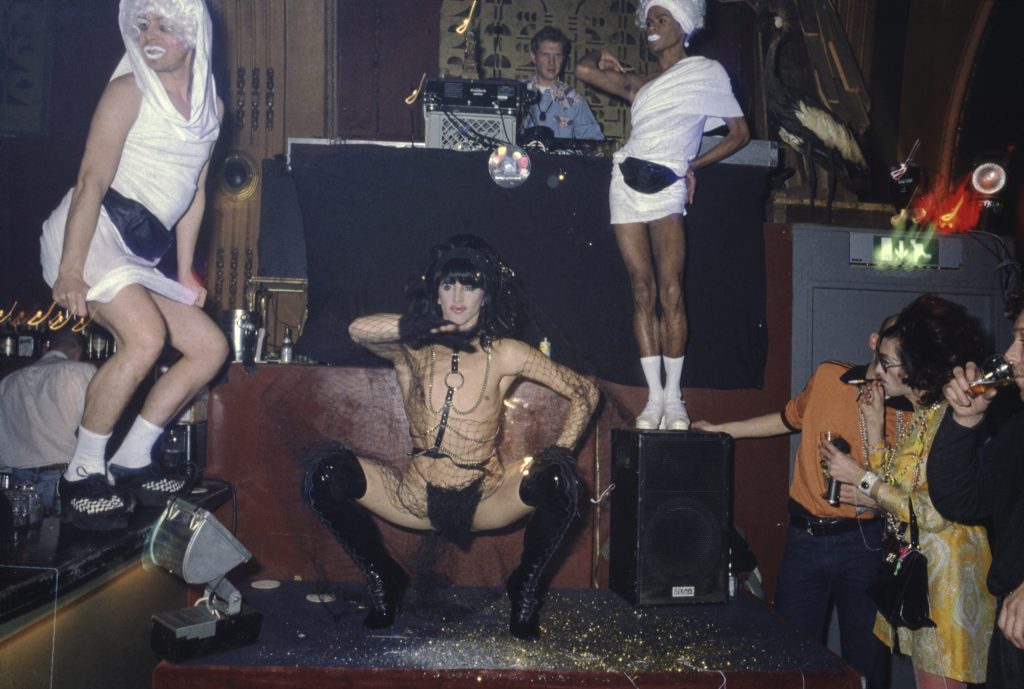 RoXY queen Zubrowka was known for her nude acts. In addition to her appearances in the RoXY, she worked in a second-hand shop.
"For one event in the club I sang Madonna's 'Like a Prayer'. A controversial song, banned by the Vatican at the time. At the same time, you also had all the fuss about writer Salman Rushdie. Because of his book The Devil's Verses, he had been declared an outlaw by different Iranian imams and had to go into hiding. Anyway, I was singing 'Like a Prayer' and next to me on a throne was supposedly Rushdie. I walked over to him with a cross in my hand. I opened it and blood was all over me. Then I raped him, at the end of the act I even shot him. If you were to do these kind of performances in this day and age, you would get a bullet in the head yourself. 
Not much later it was my birthday. I sat on a throne in the RoXY and anyone who brought a present could enter for free. Sean Penn was there that night too. So at some point I got off that throne in search of him. 'I'm throwing a party for intimates tomorrow, are you coming?' I asked when I spoke to him. Every time the bell rang, my guests said skeptically, 'Yeah, that must be Sean Penn.' Then I got a call from his management. Was it okay for him to come? I kicked everyone out and showed Sean my performance as Madonna on video. He had just divorced her at the time. He thought it was absolutely crazy. I noticed that he started to get a crush on me. It was a pleasant evening, so to speak. Now I'm 57, I don't go out much anymore. But luckily I still have all these fond memories. They can never take that away from me."

Copyright of the interviews belong to Nathalie de Graaf. Other passages come from Topos Magazine's article 'RoXY Club: Urban History of Amsterdam's popular Nightclub'. Images by Cleo Campert (Het RoXY Archief 1988-1999). This article was written for Volksnews #17, themed 'nostalgia'.